Asian American Literature Fans – Megareview for October 8, 2016
In this post, reviews of Booki Vivat's Frazzled (HarperCollins, 2016); MariNaomi's Turning Japanese (2dCloud, 2016); Taran Matharu's Inquisition (Feiwel & Friends, 2016); Tosca Lee's The Progeny (Howard Books, 2016); S.B. Divya's Runtime (Tor.Com, 2016); Tahmima Anam's The Bones of Grace (Harper, 2016); Karin Tanabe's The Gilded Years (Washington Square Press, 2016); Leah Lakshmi Piepzna-Samarasinha's Dirty River: A Queer Femme of Color Dreaming Her Way Home (Arsenal Pulp 2016).
A Review of Booki Vivat's Frazzled (HarperCollins, 2016).
It's so wonderful to be reviewing Booki Vivat's debut novel Frazzled, as it provides Asian American literature with another critical offering in the middle elementary and middle grade areas. I've noticed that there aren't too many books pitched for this age group by Asian American writers, so Vivat's work is certainly most welcome. Intriguingly, Vivat's debut is more apt to be described as an illustrated novel, something that verges closely to a graphic narrative. Vivat's talents are on full display in her ability to weave both manga-inspired images with a plot that most kids of the target age group fully understand. At this point, we'll let Publisher's Weekly via B&N provide us with some basic contexts: "Abbie Wu, a beleaguered middle child who is daunted to enter middle school, knows that 'nothing good ever happens in the Middles,' as evidenced by the Middle Ages and the middle seat of the car. Yet her best friends are jumping right into middle school life and even having fun in their various electives, leaving Abbie feeling like a 'sad reject pastry' in desperate need of a 'thing' of her own. As the injustices of the middle school cafeteria mount, Abbie discovers a talent for social—or at least lunchroom—leadership. Could community organizing be her 'thing'? Vivat's funny, quick-moving debut skips along even faster thanks to the endearing doodles that appear throughout, punctuating Abbie's travails with chibi-esque emotional outbursts featuring flailing limbs, speed lines, and exaggerated typography. Though this is, at heart, a straightforward story of social adjustment, Abbie and her supporting cast show real depth as they learn that passions can change, 'not everything has to work out,' and no matter how confident some people may seem, 'the truth is, no one really knows for sure.'" The key element to this review is the fact that passions that "can change," because Abbie initially comes off as something of a negative nancy: she's a little bit neurotic, constantly casting aspersions on her middle school experience, and finding ways to feel underwhelming. At some point, this kind of perspective can try our patience, but Vivat is waiting for the game-changing moment that allows us to see Abbie and her life from a different viewpoint entirely. The reveal here is an unexpected, comic moment that seems exactly right for that period of our youth, where popularity and notoriety occurs hand-in-hand in the strangest, most circuitous ways. Naturally, we know that such a new affirmation of identity can only be transitory, but the inner change is what really matters, and Abbie's shift thus comes off as unforced and progressive the same time. A spirited, winning debut.
Buy the Book Here:
http://www.barnesandnoble.com/w/frazzled-booki-vivat/1123244216#productInfoTabs
A Review of MariNaomi's Turning Japanese (2dCloud, 2016).
So, I've been really pleased to see how quickly MariNaomi has been producing graphic narratives. Turning Japanese is her third effort, and probably my favorite for the fact that it can easily be taught in a graphic narrative course that's more focused on racial and ethnic elements. Unfortunately or fortunately (?), this title is same as David Mura's problematic, yet rich memoir Turning Japanese. I guess both could be taught in the same course, though. To be sure, MariNaomi has explored her mixed race and ethnic background in previous works, but this particular narrative places such issues firmly at the center. The first half of the book involves MariNaomi in her young twenty-something years, as she engages in a long term relationship with a man named Giuseppe, who is something of a free spirit. They move from San Francisco to San Jose at a time when the city still had larger sections that had been less developed. It is there that MariNaomi gains employment at a Japanese hostess bar, which allows her to explore her interest in her Japanese ancestry. Though she is unable to find much time to practice her fledgling linguistic skills, she does gain a valuable insight into the inner workings of this kind of establishment. The author is thus able to use the graphic narrative form to great use as a kind of ethnographic exploration of the hostess bar culture, much of which involves catering to inebriated customers who seek intimate connections with individuals who can only offer perhaps a fraction of their authentic selves. The second half of the book shifts Mari and her partner to Japan, where she gets to explore her ethnic roots. She also gains employment at a hostess bar, but obviously the situation is quite different there. Her lack of Japanese fluency is certainly a cause for complications, but she makes a quick friend in another mixed race employee named Koiko. Outside of work, she and her partner are able to explore different parts of the city and find much to love: the pet stores, the toy shops, and the food. But by the conclusion of their time there, Mari and Giuseppe begin to discover that they have different priorities, and they begin to grow apart. I absolutely adored this particular graphic narrative because it so squarely looks at the challenging nature of acculturation, especially from the standpoint of a mixed ethnoracial protagonist. MariNaomi has always excelled in the navel gazing necessary in the graphic narrative form: she's never looking to portray herself or anyone else all that heroically. It is in the mess, the flaw, and the inconsistencies that MariNaomi's sketchy comic stylings hit their greatest marks. At the same time, I do hope we'll get a chance to see other stylistic developments. I'd love to see MariNaomi tackle the use of color or at least more grayscale shading in the future. A definite summer must read and absolute required reading for graphic narrative fans.
Buy the Book here (and also check out a very cool press):
http://2dcloud.com/turning-japanese
A Review of Taran Matharu's Inquisition (Feiwel & Friends, 2016).
This young adult fiction was one of the publications I was saving for the right time to read. Last year, when I read the first in the Summoner series, I had that common reaction that comes when reading trilogies: "ugh, when is the next one coming out?" Well, the next one finally came out, and it was well worth the wait. Though the first half of the novel is mired in a lot of set-up, there is quite a bit of action-packed adventure and intrigue to make up for this momentum loss in the concluding arc. The set-up from the first half involves the fact that our hero, Fletcher, finds himself in prison due to his alleged assault of a noble named Didric. This event occurred in the first book, so I suppose I should say that there will be spoilers in this post (yikes). Of course, what actually happened was an accident, but Didric nevertheless uses his powers as a noble to get Fletcher jailed and to make him stand trial on bogus charges. Though he is eventually cleared of these charges, higher allegations emerge when another figure accuses him of treason. Eventually, these charges are also dropped, but only because it becomes evident that Fletcher's ancestry is more complicated that it seems: he, too, is actually a noble. This revelation reminds us of the common conceit in my young adult fictions in which the "ordinary" hero really possesses extraordinary origins. In any case, after this point, Fletcher must work with many characters from the first book to help repair the rift between elves, dwarves, and humans. The plan is to use a difficult quest into enemy orc territory to save a human that has been held hostage there for many years. This undertaking will be posited as a kind of public relations venture spotlighting how elves, dwarves, and humans can work together. But this quest already begins with many complications: it seems as though there might be a traitor in their midst, and there is the question of strange creatures that have evolved. These creatures are none other than goblins, a strange hybrid mixture between orcs and gremlins, which are being spawned by the thousands. So, the second aspect of this quest involves the destruction of these new hordes, which are being used in raids against human populations that live in the borderlands. As with the previous book, perhaps the best part of this novel is the pokemon aspect: each major character on this quest into orc territory is a summoner, who has the power to control one or more demons. The more rare the demon, the higher level that demon might be; the variations are many. Fortunately, our hero gets a new demon in this novel: it's called a gryphowl (named Athena), so Fletcher has to mediate the consciousness of Athena alongside Ignatius, his original Salamander demon. The snotty nobles from book one (like Tarquin and Isadora) return, while Fletcher's dwarven friend Othello and elven friend Sylva all provide the requisite alliances, while some new characters surface like Cress, a first year summoner of Dwarven descent. The final forty pages or so leave us with our heroes in a terrible situation, but Matharu has us in our adept storytelling hands: we've moving into new spatial area in the last moments that readers have been wondering about, which is none other than the ether, the space from which the demons come. The ether hasn't been explored very much, so we'll have to wait another year (or so) to find out what new surprises that Matharu has in store for us. But, before I end my review, I wanted to say that I really appreciate Matharu's willingness to use words like race in his work to reflect the fact that fantasy creatures are not simply analogies or metaphors for different kinds of social identities. For Matharu, the oppressions faced by dwarves is simply another consideration of how race can develop, even if it is in the terrain of speculative fiction. Such an approach also makes this book more teachable for many of us who happen to be Asian Americanists and want to incorporate young adult fictions into our courses.
Buy the Book Here:
http://www.barnesandnoble.com/w/the-inquisition-taran-matharu/1123895619
A Review of Tosca Lee's The Progeny (Howard Books, 2016).
So, this novel was one I knew would be a sort of guilty pleasure. I've had the chance to read and to review some of Tosca Lee's other works, and she definitely expands her repertoire here with a fictional re-envisionment of the oft-considered Elizabeth Bathory, who is infamously known as the Countess who bathed in the blood of virgins in order to retain her youth. She is allegedly one of the most prolific serial killers in world history. In any case, Lee uses a common conceit of her previous works in that she's always looking to revise traditional understandings or biases of a given figure. For instance, in Iscariot, she cleverly positioned the oft-maligned traitor to Jesus as a figure who betrayed for a very specific and justifiable reason. In a similar way, she's telling us that we may not have the right version of events when it comes to Elizabeth Bathory. In this case, this story revolves around premise that Bathory's descendants, the titular progeny, are being hunted and killed off. A group of individuals called Hunters are tasked with finding the progeny and killing them precisely because they are from a bloodline considered impure, deviant, and evil. Our protagonist and heroine begins the novel in an amnesiac state. She has no idea who she is, only that she erased her own memory for a good reason. She eventually discovers that she is one of the Progeny. Bathory's descendants apparently all have some supernatural powers of persuasion, skills that are marked only through the female line, though male heirs carry genes that can be passed on to future female descendants. Because our heroine, who eventually discovers that her actual name is Audra Ellison, does not remember has past life, she's in the dark as much as we are. Every person she encounters could be friend or foe, but eventually we discover that her most obvious ally, Luka, was once a Hunter, a figure who was tasked to kill her. In that classic Romeo & Juliet way, we have our star-crossed lovers, who must find the solution to their problem. You see: Hunters have about five years to kill their mark, at which point they are replaced by another hunter, with the assumption that the replacement will take out the previous hunter who failed. By the time the novel opens, Audra and Luka have known each other for three years, so their time is limited. Hunters are also expected to take the memories of their marks, so what Audra does is fake her death so that Luka might be freed from his burden to kill her, presumably so that they might eventually find a way to be together. But we discover that Audra wipes her memory for a different reason entirely; due to her memory loss, the motive is obviously unknown. Ultimately, she and we DO know that she used to have some important information that might lead to the destruction of the entire social structure of the progreny and the hunters, but what such information actually is remains unclear. The rest of the novel is a world-traipsing quest to figure out what it is that Audra knew, how she might be connected to other progeny, and whether or not Luka and Audra will find a way to establish their romance beyond the reach of the current climate in which she is expected to be killed off either by him or someone else. The strength of Lee's novel is clearly in the close alignment between the reader and the narrative perspective: because we know as little as Audra does, we're compelled to become one with her search. We want to find out what she used to know and in the process, move beyond the central mysteries driving the plot. This ingenious set-up makes it so that you are willing to overlook other elements that might present "suspension of disbelief" road blocks. For instance, I couldn't help but roll my eyes a little bit when I discovered that all female progeny can pretty much make anyone else do what they want through their powers of allure. And then, the romance plot can seem a little bit too telegraphed and a little bit too perfect: the man, who was once an enemy, but who is really a bold, stoic, strong, and handsome partner. Yet, I was willing to overlook my such critiques because I wanted to find out what Audra knew and why she felt compelled to erase her memory. The novel also ends on an incredible cliffhanger that both made me want to hurl the book across the room (in part, because I expected that plot development to appear at some point but perhaps not so early), but also because I didn't want to wait until the next publication to figure out what is going to happen next. Tosca Lee = winner; reader = in perilous anxiety. Game, set, and match to The Progeny. The sequel, Firstborn, is due out February 28, 2017.
Buy the Book Here:
http://www.barnesandnoble.com/w/the-progeny-tosca-lee/1122222342
A Review of S.B. Divya's Runtime (Tor.Com, 2016).
So, I think S.B. Divya's Runtime is part of an emerging hybrid publishing model in which writers' works are being released primarily online, but with the possibility of the purchase of print editions. The B&N description is exciting enough to whet the appetite of any hard sci-fi reader: "The Minerva Sierra Challenge is a grueling spectacle, the cyborg's Tour de France. Rich thrill-seekers with corporate sponsorships, extensive support teams, and top-of-the-line exoskeletal and internal augmentations pit themselves against the elements in a day-long race across the Sierra Nevada. Marmeg Guinto doesn't have funding, and she doesn't have support. She cobbled her gear together from parts she found in rich people's garbage and spent the money her mother wanted her to use for nursing school to enter the race. But the Minerva Challenge is the only chance she has at a better life for herself and her younger brothers, and she's ready to risk it all." This novel is intriguing for how much it manages to pack in concerning its science fictional world (and considering its very short length), which include individuals who genderbend (called moots) and others who forsake cyborg technologies (nats, which is shorthand for naturals). There's an obvious class differentiation between those who hail from Marmeg's background, who are unlicensed (a term that seems to be an analogue to undocumented immigrants) and those coming from corporate-sponsored sectors, who are the primary challengers in the race. Marmeg might go the traditional educational route to rise above her class station, but winning the Minerva Sierra Challenge would enable her to explore her life as an implant-enriched individual, while allowing her to jump many class levels at once. During the actual race, Marmeg must make a difficult choice whether or not to accept the help of an "off the grid" organization comprised of individuals known as Mountain Mikes that would allow her to win indisputably. Later, her victory is put into question when she must make another complicated decision: should she save another racer, one who sabotaged her equipment? To help this individual, she would have to reveal certain technological practices that would disqualify her from the challenge. Plotting aside, one of the most striking choices Divya makes is the implicit use of ethnicity. It would seem that Marmeg and her family may be of Filipino descent, a fact made evident in certain ethnic markers such as cuisine. At other points, characters attain a possible level of ethnic marking through surnames (something I've seen occur in works such as Wesley Chu's Time series). Because Divya's narrative is so short, the resolution comes very quickly and wraps up in such a way as to feel a bit rushed. There's so much going on in this particular world that even as Marmeg's future becomes just a little bit more secure, we're wondering about other unlicensed individuals who face turbulent career and life trajectories. But, I suppose the succinct story is cause to encourage Divya to return to this particular fictional world in a sequel.
Buy the Book Here:
http://www.barnesandnoble.com/w/runtime-sb-divya/1123274887
A Review of Tahmima Anam's The Bones of Grace (Harper, 2016).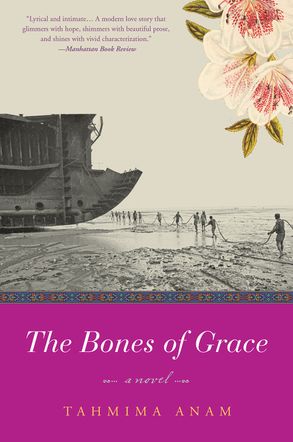 One of the books I chose to bring with me on a recent vacation was Tahmima Anam's The Bones of Grace, which is her third novel (after The Good Muslim and The Golden Age). For some reason, I thought this novel would last me the length of the flight to the Big Island, but I was entirely wrong. At about three hours in, I finished. But I digress: Anam's book might be overwrought. After all, it's told from the perspective of a narrator who is categorically heartbroken. Our protagonist and first person storyteller is Zubaida, who at the novel's inception, is a PhD pursuing her doctorate in marine paleontology at Harvard. She's adopted. She's certainly a smarty pants. We soon find out that she's going to be traveling to a rather rough and tumble area of the world on an excavation. Chosen out of a competitive graduate cohort, Zubaida knows this opportunity is huge, but before she leaves she attends a music concert by herself. She happens to sit next to a man, who will be having his own intensely personal connection to the performance before them. But, they will have a brief moment of intimacy: his hand holding hers. Then, with some amount of boldness, Zubaida will ask him out to coffee, but things are complicated. Back home, where Zubaida is from in Bangladesh, she already has a boyfriend named Rashid. She makes that clear to this man, Elijah, but they nevertheless engage in a number friendly forays in the days before she leaves. They realize their time together must be platonic and that it is limited, but they throw themselves headlong into this semi-problematic friendship with a kind of abandon that obviously betrays their rather stoic and Victorian treatments of each other. But, the narrator leaves us well aware of all of the passion simmering beneath. This tale is going to be a tale of broken hearts, and we're all in for a very rough ride. In the second act, Zubaida is on the dig, but things go terribly wrong; their local guide and go-between is basically kidnapped and tortured (though they will not even find out he is alive until much time has passed), and their dig must be abandoned in haste. Zubaida returns to live with her parents in Bangladesh, attempts to recover from some of the stress of the experience and impulsively decides to marry Rashid. Things seem to be going well enough until she gets pregnant and has a miscarriage. During the recovery phase, she decides to live alone on the coast, meeting up with former acquaintances and helping a foreigner (Gabriela) out with a documentary film. Gabriela needs her own local go-between and Zubaida functions in this kind of semi-anthropological capacity, attempting to broker trust among the workers who are part of a ship dismantling crew. It is clear that the workers have a very difficult life, but they must rehearse a kind of party line that makes it difficult for Gabriela to garner any original and authentic material for her film. It is during this time that Zubaida makes some new friends, including a striking connection to a child laborer named Mo. Zubaida also eventually decides to invite Elijah out to the coast, even though he tiptoes around this possibility. Eventually he relents, even though he knows she's married. He realizes that this moment is important, perhaps a turning point for Zubaida, and he risks the trip. They become intimate, and this period is obviously one of considerable bliss for Zubaida, except of course the guilt that bubbles up when she remembers the fact that she's—uh oh—married. Complicating matters even further is an interesting narrative interruption: someone who is connected to Zubaida provides gives his account his star-crossed relationship to a woman named Megna. Much of that narrative involves his desire to reconnect with Megna, though he originally spurned her and refused to marry her even when he discovers that she is pregnant. Once he realizes his mistake, he has to track her down, but the leads are often false. One particularly harrowing detour leads to imprisonment and torture. He eventually finds out that Megna took a job in a brothel, where it is likely she later died from some sort of illness. It is not clear what happened to her daughter, but you can probably guess that Megna has some sort of connection to Zubaida. The novel's conclusion is pretty harrowing. What I appreciated most was that there was no uplift narrative to be had, but there is also a sense of unrelenting melancholy in these pages that makes this novel, though utterly and irresistibly quixotic, still devastatingly depressing. The final pages also leave us with a kind of cliffhanger, brutal but ever so appropriate in its luminescent lack of romantic closure. Elijah, we hope you got the message.
Buy the Book Here (I am seriously insulted that at the time of posting this link, the book only has THREE out of FIVE stars):
http://www.barnesandnoble.com/w/the-bones-of-grace-tahmima-anam/1122749492
A Review of Karin Tanabe's The Gilded Years (Washington Square Press, 2016).
So, Karin Tanabe's The Gilded Years (Washington Square Press, 2016) had probably one of the worst titles I've seen for books I'm reviewing this year. Yes, the novel (Tanabe's third after The List and The Price of Inheritance, but honestly the first of hers I've read) is set in the Gilded Age of the late 19th century, a period of time known for its extravagance, but beyond that, what's probably far more germane is the passing narrative that is at this novel's core. I'm sort of glad I didn't read any book reviews or descriptions prior because I was able to make this discovery on my own, which actually came as a pleasant surprise. At first, I thought this work was going to be about upper class women attempting to carve out independent lives in an era in which women could not yet even vote, but Tanabe adds another wrinkle into this kind of theme with the main character, Anita Hemmings, who we quickly discover is not who she says she is to her fellow classmates. We'll let B&N provide us with a description here: "Since childhood, Anita Hemmings has longed to attend the country's most exclusive school for women, Vassar College. Now, a bright, beautiful senior in the class of 1897, she is hiding a secret that would have banned her from admission: Anita is the only African-American student ever to attend Vassar. With her olive complexion and dark hair, this daughter of a janitor and descendant of slaves has successfully passed as white, but now finds herself rooming with Louise 'Lottie' Taylor, the scion of one of New York's most prominent families. Though Anita has kept herself at a distance from her classmates, Lottie's sphere of influence is inescapable, her energy irresistible, and the two become fast friends. Pulled into her elite world, Anita learns what it's like to be treated as a wealthy, educated white woman—the person everyone believes her to be—and even finds herself in a heady romance with a moneyed Harvard student. It's only when Lottie becomes infatuated with Anita's brother, Frederick, whose skin is almost as light as his sister's, that the situation becomes particularly perilous. And as Anita's college graduation looms, those closest to her will be the ones to dangerously threaten her secret. Set against the vibrant backdrop of the Gilded Age, an era when old money traditions collided with modern ideas, Tanabe has written an unputdownable and emotionally compelling story of hope, sacrifice, and betrayal—and a gripping account of how one woman dared to risk everything for the chance at a better life." There's something of a throwback quality to this novel. After all, we can read Charles Chesnutt's The House Behind the Cedars or Nella Larsen's Passing to get at the critical issue of passing in some classic, brilliant narratives connected to the so-called tragic mixed race subject. Tanabe's version, though, is certainly the kind that makes us scratch our heads about racial divides in the past. For starters, the constructedness of race is obviously on full display when someone passes in the first place, so the whole state of affairs and the struggles that Anita faces seem absolutely absurd looking back on it from the contemporary moment. Nevertheless, part of Tanabe's point is cast us into another historical moment to reveal the dangers inherent in racial passing. There were times when this narrative certainly ran long, but readerly motivation remains apparent because we want Anita to find a way to endure despite how her live seems to unravel once her secret becomes more public. This novel also makes you wonder about questions of authorial choice and genre. Toward the novel's conclusion, we get quite a meaty author's note about the fact that this novel is based upon an actual Vassar graduate. Tanabe obviously used the fictional form to fill in details about the circumstances, but one wonders whether or not this type of story might be better served as a biographical account, albeit with major holes, or even the subject of some sort of historical study. In any case, it's interesting to read a passing narrative about the 19th century published in the 21st, and I suppose this novel could make a pairing with those earlier works as well. Finally, this novel is the kind that made me exceedingly interested in the topic of my first book (shameless plug right here) because Asian American writers (in this case, Tanabe is part Japanese) are compelled to write narratives beyond Asian American characters (and associated contexts). To be sure, Tanabe has some fun with this issue; there's a part-Japanese character that has a key role as a minor character and even Lottie is quite enamored of Japanese culture (at a time when Orientalism was perhaps more en vogue and acceptable than later in the early 20th century during the time of exclusion), but Tanabe's work reminds us that we must define the field as expansively as we can to see how issues of racial difference and marginality, the kinds of issues we teach out and write about, are not necessarily restricted to works in which Asian American characters, themes, or perspectives predominate. While I wouldn't necessarily teach an entire course filled with these more "oddball" choices, my point is that our teaching and scholarly attentions become limited if we do not look beyond identitarian paradigms to create boundaries around these sorts of issues.
Buy the Book Here:
http://www.barnesandnoble.com/w/the-gilded-years-karin-tanabe/1122858646
A Review of Leah Lakshmi Piepzna-Samarasinha's Dirty River: A Queer Femme of Color Dreaming Her Way Home (Arsenal Pulp 2016).
Well, I have to say I absolutely adore Arsenal Pulp as an indie press, and a publication like Leah Lakshmi Piepzna-Samarasinha's Dirty River: A Queer Femme of Color Dreaming Her Way Home is one reason why. This book, which seems to be a hybrid form of creative nonfiction melding memoir and poetry together, is pretty damn ferocious. The work primarily details the author's struggles as a mixed race, queer identity, working class woman who migrates to Canada right after college in search of a supportive community. Piepzna-Samarasinha grows up in a family in which her mother and father have a strained relationship. Her father is Sri Lankan, while her mother is Caucasian. There is never enough money, but the author is always able to have enough support to borrow books and to study. For awhile, education provides the author a means of fulfillment and stable identity. But, her mixed race background and her foreign looks, often mark her at the many educational institutions she attends. She must contend with bullies and rich elites, all the while trying to figure out what it is that is driving her. She is able to go to college, but the refuge she seeks isn't exactly found there. During these turbulent years, she's also in a complicated relationship with a fellow activist, radical, and soul-searcher named Rafael. Her time in Canada is rough, to put it mildly. She's struggling to make ends meet, while continuing her quest to find a place that might more fully embrace her. Toronto during this period is gritty, but also filled with diverse communities that clamor for social justice. Much of this memoir is also spent dealing with the traumatic aftermath of incestuous abuse. Much of this information is left fairly elliptical in the narrative, but over the course of the work, it becomes clear that the author's mother had been the perpetrator. What makes this particular creative nonfictional publication so textured is the way the author works through this moment. Rather than demonize her mother, the author attempts to provide a deep excavation of her personal history, relating her rise out of challenging material circumstances and her deep need to grant her own daughter a better life than the one she had had. While the author's father does not appear in as significant a role in the work, it is apparent that the author and her father are able to connect our their mutually queer backgrounds. At one point, the author discovers that there was a period in her father's life in which he was dabbling in same-sex liaisons. What is perhaps most striking about this memoir is the clipped language, the poetic verve, and its confrontational tone. As the author makes clear at numerous points, she is a survivor, but she is also an artist and a fighter. By the creative nonfiction's conclusion, we know that we cannot read this work as uplift, but we can say that the author has come to a place of dynamic equilibrium with respect to her many identities, her fractured past, and a future that seems, though unmapped and potentially troubling, filled with more possibility and promise than ever before. This creative nonfiction is certainly one I can see teaching, especially given its anachronic structure and poetic style.
Buy the Book Here:
http://www.barnesandnoble.com/w/dirty-river-leah-lakshmi-piepzna-samarasinha/1121490079