Asian American Literature Fans – Megareview for November 19, 2015
AALF
uses "maximal ideological inclusiveness" to define Asian American literature. Thus, we review any writers working in the English language of Asian descent. We also review titles related to Asian American contexts without regard to authorial descent. We also consider titles in translation pending their relationship to America, broadly defined. Our point is precisely to cast the widest net possible.
With apologies as always for any typographical, grammatical, or factual errors. My intent in these reviews is to illuminate the wide-ranging and expansive terrain of Asian American and Asian Anglophone literatures. Please e-mail ssohnucr@gmail.com with any concerns you may have.
In this post reviews of
Dao Strom's
We Were Meant to be a Gentle People
(Paper Doll Works/ Martin Paul Moser Productions, 2015);
Rin Chupeco's
The Suffering
(Sourcebooks, 2015);
Raj Kamal Jha's
She Will Build Him a City
(Bloomsbury USA, 2015);
Livia Blackburne's
Daughter of Dusk
(Disney-Hyperion, 2015);
Khanh Ha's
The Demon Who Peddled Longing
(Underground Voices, 2014);
Shirley Camia's
The Significance of Moths
(Turnstone Press, 2015);
Sameer Pandya's
The Blind Writer: Stories and a Novella
(University of Hawaii Press, 2015);
Brandon Shimoda's
Evening Oracle
(Letter Machine Editions, 2015).
A Review of Dao Strom's We Were Meant to be a Gentle People (Paper Doll Works/ Martin Paul Moser Productions, 2015).
Dao Strom is one of those writers that I'll always associate with a period of reading discovery in graduate school. I was at a bookstore in Goleta and chanced upon something called Grass Roof, Tin Roof sometime in 2003 or so. I was intrigued by the premise and immediately read it with gusto. It became one of my favorite novels (and still is), and I'll always connect this work with other favorites that I read during this period (including Brian Ascalon Roley's American Son, Alexander Chee's Edinburgh and le thi diem thuy's The Gangster We are All Looking For; all these novels are still on regular rotation in my classes). I considered writing on the novel and even produced a critical essay (still in the publication doldrums) on the work and was feverish for more of Strom's fiction. Fortunately, she soon published The Gentle Order of Boys and Girls, a notoriously overlooked story collection that cemented in my mind that she was a talent and a writer with a long and illustrious literary career ahead of her. Between the publication of TGOOBAG and We Were Meant to be a Gentle People, I continued to troll amazon, hoping to see a listing for a new publication (still waiting on le's latest, but Roley is officially putting out his second work soon). Meanwhile, Strom was also cultivating a career in popular music. She released a couple of albums, but there were no written publications in sight. Finally, sometime around last year, I saw something called We Were Meant to be a Gentle People listed, though the publisher kept changing and the genre of the work unclear. As the publishing details solidified, it became apparent that Strom had created a multigenre work: part memoir, part song, part poetry, part visuals (with quite evocative photographs nestled throughout the pages). This work also clarifies some of the fictional impulses that appeared in earlier publications, especially as we begin to see how much of herself and her life can be found in these feats of the imagination. But, one of the most important portions of We Were Meant to be A Gentle People appears when Strom makes apparent the stakes in this memoir: she knew that she wanted to write and publish a work that she had to stand behind without the possible out of fictional "neutrality." In this sense, we see Strom steer away from fictional impulses if only because she desires to find a creative venue that might be more risky for her. Indeed, this multigenre memoir (if I can call it that) defies any easy categorization and is at its best because it is aware of the limits of writing, recovery, memory, and the desire to embrace one's roots and heritage (however that heritage might be defined). The work is tripartite in structure, with the interlude providing the division between East and West; this structure is Strom's way of working out the transnational nature of her existence, the complications of being a refugee, a sojourner, the daughter of what some might call many fathers (and more on that later) and a mother with a distinguished, perhaps even slightly infamous literary past in Vietnam. Here, the memoir goes into great detail about the complications of Strom's paternal lineage: the man she believed to have been her biological father is revealed to be someone else. Complicating matters further, the man who was actually her biological father and who she believed had died is revealed to be alive; she eventually travels to Vietnam at the age of 23 to meet him through struggling for five weeks to make herself do so (out of a six week vacation). To make matters just a little bit more muddy: Strom's stepfather (a white European immigrant himself) additionally plays a prominent role in her life, as he is the one who marries her mother after the family has settled in the United States, and directs their lives once they move to Northern California gold country. It is Strom's stepfather who exerts the most commanding presence in her life when she is growing up in the United States. Strom's mother is an inspiration for the simple fact of her many transformations; Strom makes clear her mother is a survivor, having juggled a number of different career aspirations and romantic relationships. At the same time, Strom's mother is one who is not necessarily forthcoming about her past. Not surprisingly, then, the shuttling between countries and the intricate webs of family provide Strom with a sense of unease that she is working out through this memoir: where do we find our sense of who we are, as our relationships become redefined over the course of our lives, Strom asks? Strom's not entirely sure, as the conclusion shows us, but we'll be sure to answer her final question by reveling behind the incredible aesthetic achievement that this multigenre memoir is. Thus, we can say that we've moved far beyond the "violence" that she wonders may be inherent in the process of excavation and self-discovery. The last chapters are especially affecting, as Strom delves into the tragic loss of a half-brother and her continuing tensions with her biological father that clarifies the large chasm that remains even after she had established a more sustained relationship them in the United States. As is evident, Strom is working through guilt and responsibility: what is her place in trying to create a sustainable bridge with this half-brother and her biological father? There is much I cannot cover in this review, especially the musical portions, as I'm woefully terrible at reviewing songs and associated lyrics, though these melancholic strains make the appropriate accompaniment to this work. If there is a minor quibble to be made in this review, it is that I would have preferred the work to come out in a hardcover version with far bigger page space. Strom's typeface tends to be very small, so you'll have to reach for your reading glasses if you have trouble on that level. I do hope that this work might find a second life by being picked up by a bigger art publisher because We Were Meant to be a Gentle People deserves that kind of epic production capacity, with glossy pages, big print, and space for the reader to settle into this dense, elegant, and expansive world.
Buy the Book Here:
http://www.spdbooks.org/Producte/9780990955511/we-were-meant-to-be-a-gentle-people.aspx
A Review of Rin Chupeco's The Suffering (Sourcebooks, 2015).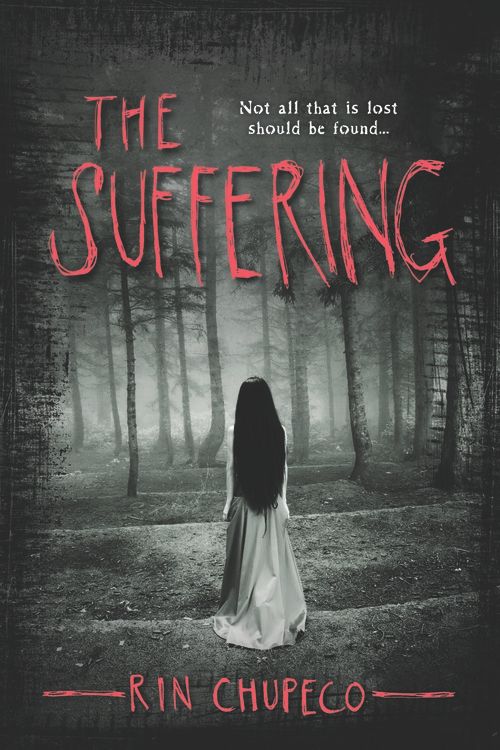 Well, for some reason I figured that Rin Chupeco's followup to The Girl from the Well would probably be the last in a duology, but The Suffering, the plot-driven, action-packed sequel certainly sets up this series for more installments. After the events from the debut, Chupeco has decided to shift narrative perspective to Tarquin (Tark) Hall, moving from the ghost narration in the first (which was focused on the titular girl from the well, Okiku, a spirit intent on vengeance). In the second, Tarquin and Okiku are living out there symbiotic lives together. Okiku still wants to hunt serial killers and Tarquin is more than willing to help her. Early on in the novel, Okiku actually goes off to kill Tarquin's high school classmate, an act that is problematic insofar as this individual has never actually killed anyone, but Okiku fears that he will one day do so. This Minority Report-esque move has the consequences of creating a rift between Tark and Okiku. But, from here, the plot shifts considerably, as Tark and Okiku are pulled back to Japan in the wake of more disturbing news: Kagura, one of the shrine priestesses that was involved in Tark's exorcism at the ending of the first novel, has gone missing. Worse still is the fact that she has gone missing on the context of searching for a mythical town called Aitou, which is supposedly located in Aokigahara, otherwise known as Japan's infamous suicide forest. Tark, having apprenticed with Kagura, feels a great deal of responsibility for Kagura's well-being and thus goes to Japan with the intent of helping the search parties. Once there, he is reunited with his cousin Callie (who was also an instrumental character from the first book), and they go off together in search of Kagura as well as the band of ghost hunters who were seeking out Aitou with her. While in Aokighara, Tark stumbles upon Aitou and realizes that they're all in deeper trouble than they realize. Apparently, the inhabitants of Aitou were participating in a ritual involving seven female sacrifices that would be offered up so that a priest would be able to open a hell's gate and control the powers involved with that gate. The ritual somehow was not completed, but not before the souls of the village were all corrupted into malicious spirits. Thus, Tark must attempt to engage in a number of exorcisms if he is to have any chance of saving Kagura and anyone else who was part of the ghost hunting crew. As I mentioned in the opening, the action is pretty much non-stop. I read this book in a couple of sittings, and was impatient to return just so I could figure out how it would end. The conceit of "traumatized" narration that made the first book so original is partially lost in the shift to Tark, so that was one element that I found less interesting, but overall, this book presents yet another solid addition to the YA paranormal canon. Whereas the first book essentially avoided the romance plot entirely, Chupeco decides to add some flirtatious interactions between Tark and another classmate (Kendele), but this subplot does not get developed at all, making you wonder whether or not it will be picked up in the future. The novel is heavy on the horror and gore elements, so some young teenagers should be forewarned! BOO!
Buy the Book Here:
http://www.barnesandnoble.com/w/the-suffering-rin-chupeco/1121010248?ean=9781492629832
A Review of Raj Kamal Jha's She Will Build Him a City (Bloomsbury USA, 2015).
Raj Kamal Jhal's She Will Build Him a City (Jha has already published a number of novels including Fireproof, The Blue Bedspread, etc… I have unfortunately not had a chance to read these earlier works) had been listing on my shelf for a little bit too long, so I took it with me on a trip to the East Coast. I managed to get to it on the way back. The novel begins with an epigraph from Charles Dickens's David Copperfield. This intertextual reference is apropros insofar as the novel does include a major character who is an orphan amongst a constellation of other characters that include: a woman who seems to be retrospectively telling a story to her daughter, who is now a grown woman about her life, especially the time when the woman's husband was killed in a bus accident; a man who mysteriously takes a beggar woman and her child home, bathes them, then sends them back on their way; a woman working at an orphanage who is studying to be a nurse; and the aforementioned orphan who manages to leave the orphanage in the company of a dog. There is a magical realist quality to this work, as Jha rotates narrative perspective (using both first person and third person focalizers) sometimes inhabiting psychic interiorities and viewpoints of nonhuman figures (including dogs and at one point even a human who has been reincarnated as a cockroach). Central to this story is the issue of human connection amid rapidly modernizing India; this topic has of course been the subject of numerous novels at this point, including but not limited to Bharati Mukherjee's Miss New India, Aravind Adiga's Last Man in Tower, and Vikas Swarup's The Accidental Apprentice. The novel takes place in an allegorical location, New City, and characters are given allegorical titles such as The Woman, The Man, and Orphan. In this sense, Jha seems to be gesturing to be marking these figures as paradigmatic of larger subsets of modern Indian society: the independent, urbanized widow who struggles to make a life in the shadow of her husband's death or the orphan who seeks to somehow rise out of the caste system through a little bit of luck and magical assistance from an enterprising dog. In the second arc of the novel, Jha begins to twine the stories, so that we understand how they are related to one another. From here forward, I will definitely be unveiling some spoilers, so you are forewarned. The mother character is connected to the orphan because she is the orphan's grandmother. The mother's daughter, Kahini, runs away from home after she falls in love with an upwardly mobile young man who lives in New City, but that man ends up pushing her to get an abortion. Due to some sort of botched procedure, she ends up still having the baby, leaving him on the doorstep of the orphanage, and then asks to return to her home with her mother with no questions asked. The conclusion sees the daughter return home, but it's not clear if she has come home to commit suicide. By this point, the mother has fallen into a new romance with a student of her late husband, who had been a college professor. In another subplot, Kalyani ends up discovering she is suffering from TB. She ended up quitting the orphanage where Orphan was at because she was worried that she might infect the infant. Dr. Chatterjee, who had earlier harbored a kind of romantic interest in Kalyani, ends up subsidizing her medical payments, so her destitute family can afford the expensive daily antibiotic treatments. Fortunately, Kalyani's strain is a treatable version. Jha returns to the motif of the surreal and the fantastic in a character known as Violets Rose (which we later discover is an anagram for Love Stories), who seems to have taken in Orphan at a kind of movie theater/ film screening location called Europa. This portion of the plot was perhaps the least effective because it deviated the furthest from the realism that seems to undergird this novel in its ultimate form. Kahini's lover, as the readers discover, seems to be some sort of deranged serial killer. This subplot also remained quite complicated because long portions are framed from the perspective of this character, who has obviously become unhinged from reality. In particular, he continues to harbor fantasies about a young girl who had been selling a red balloon alongside her peasant mother. We are unsure if this man ends up killing this young girl, assaulting the mother, and then later also killing a taxi driver who may have been a witness to the fact that this man had taken the mother and the young girl back to his place in New City. The many surreal plot strands can frustrate an otherwise fascinating novel, which continues to mine the thorny path of India's modernization. As a caveat, you will have to excuse me if I missed any of the plot details, as reading on an airplane does have its occasional turbulence drawbacks.
Buy the Book Here:
http://www.barnesandnoble.com/w/she-will-build-him-a-city-raj-kamal-jha/1119677824
A Review of Khanh Ha's The Demon Who Peddled Longing (Underground Voices, 2014).
I had earlier reviewed Khanh Ha's Flesh (Black Heron Press) and was excited to see his follow-up The Demon Who Peddled Longing come out of another intriguing independent press called Underground Voices. As the title of the press suggests, Underground Voices seeks to bring publication attention to writers and to topics that have been otherwise commonly ignored. In Ha's case, The Demon Who Peddled Longing is exceptionally fascinating for a text concerning the Vietnamese experience because it doesn't really focus on war contexts (though these do appear as background issues at various points) and thus diverges from the ur-narratives that have grounded Vietnamese American fiction prior to this point. Flesh also operated in a similar manner, so we're not surprised to see that Ha has gone in this different direction. There's also something of a naturalistic impulse to this text, as it is set at first in a region of Vietnam filled with fishing boats, rivers, and flood plains. Our protagonist, who is unnamed, wakes up on a boat after having survived a previous sinking. He is being taken care of by a strange, large bodied woman, who then hires him to help with her fishing business. They have a complicated connection, which also includes the fact that at night she finds a way to force herself sexually upon him. Realizing that these conditions are far from ideal, he chooses to break from her and to continue with a revenge quest that has been quietly motivating his movements. Indeed, Ha is quite patient to let the details behind the mysterious protagonist's movements and motivations surface. We begin to discover that this young man (called a boy in the novel), who is about 18 or 19 years old, is a drifter. He has no family. His uncle is dead. He fell in love with his cousin, who later also died because she brutally raped by some unknown individuals. Following the advice of a fortune teller, he begins to believe that two brothers are responsible for the crime. Once given information that leads him to conclude that the two brothers may be operating as serial rapists and murderers, he vows to find both of them and perhaps even to kill them. The young man eventually finds another working situation to help him along, this time working for a wife and her husband. The husband is suffering from a sickness that produces boils all over his body, so the wife needs someone to cover for the husband until he can recover. Eventually, it seems as though the husband will recover, though only after they finally see a doctor and only after it is apparent that the wife seems to be prostituting herself in order to cover the medical bills. After this point, the young man is on an errand for the husband-wife couple when it becomes apparent that he is in the company of one of the brothers (who has a conspicuous missing eye). He decides he has to move on from working for the husband-wife couple and devises a stratagem that will take him alongside the one-eyed man back to a place called O Sang. He realizes that he will be able to find out the identity of the other brother by working with the one-eyed man, but things go awry and he kills the one-eyed man partially in self-defense. He is critically wounded in the process, but is saved by a flute player who takes him to a monk who is able to tend to him and heal him. Later, once staying in the hamlet, he is recruited to help with finding a man who is lost out to sea. In that process, he is bitten by a shark. Though suffering from serious wounds, a doctor is able to heal him. During his convalescence, he chances upon a young woman whom he had once met on the road and who had been riding a beautiful horse. This young woman ends up hiring him as a horse caretaker on a property in a hamlet owned by an aging and sickly man, who already boasts one son (who is mentally disabled) from a wife who had cheated on him (and who he had killed using poison). Not surprisingly, he and this woman end up striking up a friendship. Eventually, the woman asks the young man to go to the flute player because she wants the flute player to play for her husband at a birthday celebration that will take place at sea. At this point—and here I am breaking for a spoiler warning—Ha is able to thread the narratives together, as we come to the realization that the flute player is none other than the brother of the one-eyed boy that the young man had killed earlier on in the novel. The flute player ends up scheming (along with the wife of a proprietor) to have the wife kidnapped by Khmer pirates, but this plan is foiled. In the process, the flute player loses his leg. The protagonist eventually confronts the flute player and makes it clear that he never killed the flute player precisely because it was the flute player who had taken him to the monk to be healed the night he had to kill the flute player's brother. Thus, the protagonist is willing to forgo his quest for revenge precisely because he understands that they are in some ways still even. As the novel moves toward the conclusion, the old man asks his beautiful wife to consider taking on a lover, so that he may bear an heir that would be able to be independent, perhaps of course a son. This request creates considerable strain, as the wife would like to think on this request, on the one hand, and then wants the potential option of choosing the lover, on the other. Not surprisingly, she decides that she does not want to go through with the request if the husband gets to choose the lover. She takes matters into her own hands and asks the protagonist, who agrees. Of course, things go awry from here, as the old man wants the protagonist to leave the hamlet. The wife gives him the news, the protagonist agrees, and the protagonist goes on his way. Not intent to be cuckolded in this way, the old man planned for the proprietor to kill the protagonist, but the proprietor cannot carry out this task, obviously in part because the protagonist once saved his life and endured shark bites in the process. Thus, the drifter/protagonist goes on his way at the novel's conclusion, seeking to go back to the flood plains, deltas, rivers, and the fishing life he had originally known so well.
Ha's writing can be incredibly beautiful, especially in its evocation of the natural landscape. There are times, too, though, the novel can suffer from odd shifts in narrative perspective. Though it is clear that the protagonist of the story remains the young man and his quest for revenge, there are points at which the narrative perspective will briefly or momentarily shift to another character like the wife or her husband. There is something of a timeless quality to this narrative that has its benefits and drawbacks to this impressionistic work.
Buy the Book Here:
http://www.undergroundvoices.com/TheDemonWhoPeddledLonging.html
A Review of Shirley Camia's The Significance of Moths (Turnstone Press, 2015).
I've been a little remiss in the reviewing of poetry, and I can see my general oversight is much cause for concern, as I relished the understated lyricism of Shirley Camia's The Significance of Moths. Camia is intent to employ a minimalist form of poetry that evokes concrete images often at the expense of a specific sense of time and place and more narratively grounded lyrics. In this sense, these poems certainly derive some inspiration from modernist aesthetics. At the same time, Camia's collection derives a general coherence over a trajectory that seems to operate from the perspective of migration. Camia's collection is no doubt influenced by an autobiographical impulse, registering the lush, tropical landscape of the Philippines against the displacement the newly arrived migrant feels in another country. Much of the collection deals with these conceptions of loss, especially in the form of the death of loved ones or the desperate desire to recover a sense of home. These desertions, absences, and unrequited yearnings are perceived even in later generations, among the children of these migrants, even if the routes of intergenerational communication do not always seem open. The most compelling aspect of this collection appears when Camia is able to call on ethnopoetics, a term coined by Shirley Geok-lin Lim, in order to provide the basis for the melancholia that inhabits all of the lyric personages. Figures and images such as carabao and duwendes are deployed not as markers of ethnic authenticity or what Frank Chin has occasionally called a form of ethnic pornography but as a way into the complicated (yet beautiful) landscape of the Philippines that haunts migrants after their their arrival. If there is a critique to be made of this taut and precise set of poems, it might appear in the more abstracted nature of the new world so to speak. While the Philippines resonates ever ephemerally and effervescently for the collection, as it well should given its primacy as the site of a post-lapserian poetic psyche, a spatial concrete-ness of this new (more barren) world drops out of the picture that would further generate a stronger dissonance that Camia is so elegantly constructing. To be sure, Camia's lyrics are attentive to certain contexts that make migration and transnational movement so difficult. Indeed, the set of poems focusing on women's labor, domestic service, and the physical exhaustion so apparent in caring for others is certainly some of the strongest in the entire collection. And most readers will find The Significance of Moths to exist in that rare intersection of sophistication and accessibility that so many poetry collections cannot sustain. Additionally, Camia is part of a notable set of Filipino North American poets who have been producing amazing work. The Significance of Moths would be wonderful to teach alongside other new publications such as Aimee Suzara's Souvenir, Kristina Naca's Bird Eating Bird, Barbara Jane Reyes's poeta en San Francisco, and Luisa A. Igloria's Juan Luna's Revolver.
Buy the Book Here:
http://www.turnstonepress.com/poetry/the-significance-of-moths.html
A Review of Livia Blackburne's Daughter of Dusk (Disney-Hyperion, 2015).
So, I figured Livia Blackburne's Daughter of Dusk (part of the Midnight Thief series) would be a trilogy, but after finishing this one, I'm not sure if it will be. Given the conclusion, signs point to the likelihood that it will not. Blackburne focuses narrative perspective primarily on the assassin-thief-mixed being-human-demon rider heroine known as Kyra (and oops for those of you who haven't read the first novel because I suppose I just dropped a major spoiler, but such is the way of reviewing these multi-installment works; you inevitably have to give away some important plot points just to begin). Kyra is still struggling to deal with the fact of her mixed heritage: that she, too, has the power to shapeshift into a large cat, replete with all the feral and predatory feelings that might come with it. She's also still pining away for Tristram, the nobleman who has been reduced in rank for a period of time due to the events in the prior novel. Life in Forge is still very tumultuous. Malikel, one of the Councilmen, is facing an uphill battle getting more support from the residents, especially as other political entities begin to show their cards and their desire for more power. Therein lies the conflict for this novel: the future of Forge and the place that Malikel and his allies will have in it. Malikel's primary antagonist is Willem, who is able to use his cronies to make life difficult for social outcasts and the lower class, who include Kyra and her closest friends and family (a supporting cast that includes Flick, Idalee, and the youthful Lettie). Once Idalee gets targeted by some of Willem's noble henchmen, if we can call them that, Kyra takes matters into her own hands, which leads her to be exiled from the city and forces her to seek a stronger alliance with the demon riders. Fortunately for Kyra, some of the demon riders like Pashla and Adele actually seem to want to broach a sustained contact with humans and might even be willing to negotiate a kind of peace, so that raiding will be discontinued. Thus, the novel sets up two tensions, one between human factions, and another between humans and the demon riders. Kyra and her merry band of friends are obviously caught in between. There's quite a lot of plot to cover in this novel, and sometimes it seems that there is actually too much going on (perhaps there was room for that third installment), but the merits of Daughter of Dusk can be found in Blackburne's choice to centralize the heroic perspective in a character who is always questioning her morals and ethics. Indeed, at times, she seems more of an antihero and is given to bouts of impulsiveness and even of violence more befitting some of the more villainous characters, giving Kyra a complicated texture that sometimes makes her harder to root for (and therefore far more interesting to me as a reader). The other element I've made mention before is that such a novel also brings to mind concepts of "identity" metaphor, as Kyra's status as a "mixed being," certainly evokes the situation of any individual who faces questions of liminality, perhaps the mixed race individual, the newly arrived migrant, the social outcast from multiple backgrounds. In this sense, the novel operates to draw in any reader who perhaps understands the perspective of the outsider and who still struggles to make her way in the world. The least compelling part of the novel, at least for me, was the romance plot, precisely because there never seemed to be any true rival in the way of Kyra and Tristam. Blackburne builds in an arranged marriage plot that, perhaps because of genre constraints, one knows will never get far. Bottom line: Daughter of Dusk will be of great interest to fans of paranormal romance/ young adult fictions with its quirky heroine.
Buy the Book Here:
http://www.barnesandnoble.com/w/daughter-of-dusk-livia-blackburne/1120878399
A Review of Sameer Pandya's The Blind Writer: Stories and a Novella (University of Hawaii Press, 2015)
You could say I definitely had a more vested interest in reviewing this work, as I had the chance to meet Sameer Pandya a long time ago when I was first out on the job market. He happened to be on the faculty of the campus I was interviewing at for a flyback. I later discovered that he had left that faculty position to explore his interests in creative writing, and here the proof is in the pudding with The Blind Writer: Stories and a Novella. In this day and age, with kindle and the ever growing anxiety over publishing and the future of readers, to make a life as a writer seems ever more fantastical, a romance of a bygone age. In any case, Pandya takes some of these issues as part of his actual fictional depictions, especially in the title novella, certainly the most compelling in the collection in part due to the fact that Pandya simply has the time to develop his characters further with the increased narrative space. To be sure, the stories that introduce the collection are all wonderfully wrought, taut in their narrative precision, and do have that Chekhovian sensibility that Pandya himself references at one point in "The Blind Writer." In "M-O-T-H-E-R," Pandya explores the domestic squabbling and tensions that arise when a South Asian American family looks to support their children who are competing in spelling bees. "Ajay the Lover" explores the desultory erotic life of the title character, who seems to be thinking that he wants a long term relationship, but eventually realizes that perhaps that goal is fruitfully unattainable. "Welcome Back, Mahesh" is probably the most quietly tragic story in the collection (in a collection chalk full of quite tragedies; again the Chekhovian realist aesthetic at work), as the title character returns home after a stint in jail only to discover that his brother, who is already talented in so many things, has now also taken his place at the family business. "Patrick Ewing's Father" takes on an intriguing narrative conceit: a South Asian American man moves to New York City and ends up on the subway with the title figure. Each character possesses a tortured relationship with someone else, and thus they able to explore a tentative connection in their brief commuting time together. "A Housewarming" is the last story before the novella and involves a downwardly mobile family who goes to the titular event in which they find themselves dealing with a little bit of envy, as they notice how rich and how affluent their friends have become. They, on the other hand, are struggling to make ends meet due to a new business venture. The title story and novella involves a graduate student, who is looking to move away from the production of academic scholarship and shift his focus to creative writing. He takes on a job to become an assistant for a renowned South Asian writer (Anil Trivedi) who happens to be blind. This story would seem to be derived in part (I think) from the actual life and work of Ved Mehta, but obviously Pandya reworks this figure to meet fictional demands. There is a considerable element of subtext to their relationship, as the narrator continues to navigate his murky place as the assistant, while simultaneously developing a complicated attachment to the writer's wife (Mira). Indeed, the narrator and Mira embark on a brief, but tortured love affair that blooms uncertainly behind the prickly demands of Anil's creative impulses. Though Mira is a decade older than the narrator, the age difference means little, especially given the fact that they find themselves drawn to each other emotionally, as each finds comfort in the ability to express their disappointments and insecurities. The narrator's own family life is the obvious contrast point here, as his mother is divorced in all but name to her father, and he attempts to figure out his duties as a son. Certainly, this novella allows Pandya time to breathe narratively, and this work is indicative obviously of the fact that we need to see a novel from the author sooner rather than later. Pandya's work is part of a growing archive of South Asian American and Anglophone story collections that are outstanding depictions with a social realist tinge to them. A Blind Writer would act as an ideal pairing with works such as Rishi Reddi's Karma and Other Stories, Jhumpa Lahiri's Unaccustomed Earth (especially in the use of a linked set of stories at the conclusion of this collection which we also see in The Blind Writer), Daniyal Mueenuddin's In Other Rooms, Other Wonders, Mary Ann Mohanraj's Bodies in Motion, and Nalini Jones's What You Call Winter.
Buy the Book Here:
http://www.uhpress.hawaii.edu/p-9334-9780824847982.aspx
A Review of Brandon Shimoda's Evening Oracle (Letter Machine Editions, 2015).
When looking up Brandon Shimoda's newest publication—Evening Oracle—I was intrigued that the work was described as both poetry and literary nonfiction. I suppose that I was prepared for something more like prose poetry or prosey poetry, but instead I was immediately struck by the polyphonous nature of the work: it seemed at times that Shimoda's lyric speaker was taking on the voices of others. Before I got too far into the work, I went and read some descriptions online, which confirmed my suspicions that some of the lines were actually taken from the writings of others. The editorial description provides this synopsis: "In EVENING ORACLE, Brandon Shimoda encounters shadows, specters, and women—young and old, living and undead—and finds himself standing in a graveyard in the middle of a rice field in a town that no longer exists. EVENING ORACLE is composed of poems originally handwritten at night before sleep in the beds of friends and strangers in Japan (2011-2012), and passages from emails and letters to and from friends and family on the subjects of fruit, vegetables, and dying grandparents. Featuring original poems by Dot Devota and Hiromi It
ō
, and correspondence by Etel Adnan, Don Mee Choi, Phil Cordelli, Youna Kwak, Quinn Latimer, Mary Ruefle, Rob Schlegel, and Karen McAlister Shimoda, among others." The
use of bricolage and patchwork is appropriate here because Shimoda is tending to the dead: that is, he's attempting to make sense of the loss of family members, an issue that has tracked across his other poetry collections. The other clear thematic element here is Shimoda's use of the collection as a kind of travelogue: many of the sections and poems are given names connected with Japanese culture or cities. In this sense, Shimoda is also working through issues of racial heritage (on multiple sides), the question of legacy, bodily disintegration (some of the most difficult poetic sequences involve the indignations of having to sit bedside at a hospital while a family member struggles to breathe or just to maintain their life), and the feelings of displacement that inevitably arise in transnational movements. Perhaps, the most inspired section involves the aforementioned rice field: this poetic sequence I found a little bit confusing, perhaps a nod to the circular nature of loss, as a lyric figure finds himself looking at a grave of an ancestor, but the editorial description cannot fully contextualize the nature of this search, which necessarily involves the help of strangers and a Japanese sense of hospitality. The other element to emphasize in Shimoda's work (that I didn't recall as a kind of poetic tone of his earlier collections) is a more darkly humorous wordplay (e.g. "Today, the sea is horny with people" (135) later juxtaposed with "Open graves/ or all that/ can be taken" in the same poem), something perhaps appropriate given the balance being struck in a collection buoyed by poetic verve that is always placed under productive instability through a thematic melancholy. The apparent "horniness" of the sea might be read not as some sort of sexual frenzy, but rather as a kind of callousness that might derive out of one's need to soldier on after multiple deaths. The last stanza perhaps sums up the struggle to charge forward out of the abyss produced by grief, as the lyric speaker seems to be setting a scene of the Bon Festival in Yokohama, as "women are in the air, they are in the air" (137). Their Icarus-like desire pushes them closer to a sense of divine sublimity: "The deeper they inhale the sun, the closer they come/ To divining the future in shadows, reflecting/ the star that will become of the earth/ Down the corridor of space" (137). Shimoda's collection reminds us of constant need to transform what is insensible and to search for beauty and uplift (cosmic and otherwise) amid staggering heartbreaks.
Buy the Book Here:
http://www.spdbooks.org/Producte/9780988713758/evening-oracle.aspx