Asian American Literature Fans – Megareview for March 8, 2013
In this post, reviews of Veera Hiranandani's The Whole Story of Half a Girl (Delacorte Press, 2012); Joël Barraquiel Tan's type O negative (Red Hen Press, 2009) and Ching-in Chen's The Heart's Traffic (Arktoi Books, 2009); Ellen Oh's Prophecy (HarperCollins Children's Division, 2013); Shaun Tan's The Bird King: An Artist's Notebook (Arthur A. Levine Books, 2013); Tosca Lee's Iscariot (Howard Books, 2013); Neel Mukherjee's A Life Apart (Constable & Robinson, 2010); Embodying Asian/ American Sexualities edited by Gina Masequesmay and Sean Metzger (Lexington Books, 2010).
A Review of Veera Hiranandani's The Whole Story of Half a Girl (Delacorte Press, 2012).
In Veera Hiranandani's debut novel, The Whole Story of Half a Girl, our storyteller and protagonist is Sonia Nadhamuni, who is of mixed-race background, part Indian and Jewish (also of other ethnic backgrounds, including Russian and Polish). The start of the novel sees her having to change schools due in part to the financial instability faced by her parents; her father loses his job and begins to succumb to a bout of depression. Sonia's transition is in its own way also difficult. She must forge new friendships and somehow maintain old ones. She is faced with multiple platonic opportunities. There's Kate, who hails from what might be considered the queen B crowd; Kate is upper-middle class, popular, beautiful, white, and encourages Sonia to try out for the cheerleading team. There's Alisha: working class, African American, bookish and introverted, who appeals to Sonia's artistic tendencies. Then there's Sam, her red-headed Jewish buddy from her former school. How will Sonia balance all such friendships? I recently also reviewed Kavita Daswani's Lovetorn, which paired a coming-of-age story against the mental instability of an immigrant mother. Hiranandani takes a similar approach in this novel. Sonia must not only navigate that shark-infested ocean that is the public middle school, but somehow also come to understand that her own conflicts and challenges must be placed in the context of others, like her father. Indeed, Hiranandani's plotting takes a darker and more serious turn by the conclusion. Given the genre of the middle school fiction, we can likely expect a more uplifting ending, but Hiranandani's point is to show that children grow up and collide against an adult world into which they will soon ultimately find themselves. Hiranandani also takes on the challenging subject of the mixed-race childhood and places it in the context of interracial tension at the middle school level. Indeed, Alisha and Kate seem to be more largely a metaphorical way of figuring Sonia's middleman position: does she identify as a minority at all? The fact that so many students keep asking her "what she is," figures largely into her sense of bewilderment and Hiranandani takes a rather direct look at the complications of mixed-race even in this seemingly most multicultural moment. The last thing I would want to say is that it's amazing to see that such work exists and can be picked up at a library alongside many of the youth oriented fictions that Hirandani herself points to in the early chapter of the novel, ones such as A Wrinkle In Time and The Giver. I can only recall Betti Bao Lord's In the Year of the Boar and Jackie Robinson as the sole example of a youth oriented fictional work that I could pick up in paperback form at my local public library when I was a youth (admittedly now a very long time ago). A much needed addition to the area of middle school fictions, mixed-race representations, and the coming-of-age story.
Buy the Book Here:
http://www.amazon.com/The-Whole-Story-Half-Girl/dp/0385741286/ref=sr_1_1?ie=UTF8&qid=1361221216&sr=8-1&keywords=veera+hiranandani
A Review of Joël Barraquiel Tan's type O negative (Red Hen Press, 2009) and Ching-in Chen's The Heart's Traffic (Arktoi Books, 2009).
In this review, I cover two of Red Hen Press's most recent poetry collections: Joël Barraquiel Tan's Type O negative (Red Hen Press, 2009) and Ching-in Chen's The Heart's Traffic (Arktoi Books, 2009). Arktoi is an imprint of Red Hen Press that publishes work by lesbian writers. Both these works show an attentive commitment to questions of racial, immigrant, and queer identity. These intersections also appear in tandem with explorations of form. Ching-in Chen's The Heart's Traffic, for instance, is billed as a "novel in poems" and thus engages the scope of a developmental lyric bildungrsoman—if we can even call it that—in its representation of Xiaomei, who must not only acculturate to the United States, but also deal with questions of her sexuality. Chen uses an incredible array of poetic forms, including but not limited to the haibun, villanelle, the sestina (and a variation of the form called the double sestina), the pantoum, among others, alongside free verse to explore these various thematics. As readers come to find out in "The Geisha Author Interviews," Xiaomei must contend with how her racialized body can be fetishized. She further endures the taunts of other schoolchildren, as showcased in "Ching Chong," "fob 1," "Ku Li," and "Coolie: A History Report." As Xiaomei begins to explore her queer sexuality, the poems turn toward the complication of sexual identity in the face of transgender issues. Xiaomei's relationship with Jani, for instance, is troubled when Jani "intend[s] to begin living full-time as a man" (79) named Jaden. As The Heart's traffic begins its final arc, the sparrow, a motif introduced at the beginning, returns, suggesting the ways in which Xiaomei may not find that perfect love she is looking for. Nevertheless, the "novel in poems" seems to end on an optimistic note, suggesting that Xiaomei has come to better understand herself and her place in the world. Tan's Type O Negative unfolds in two distinct parts. The first half of the book roughly focuses on the lyric speaker's experiences growing up in the Philippines. These poems are playful and intimate at the same time and exhibit some similarity to the poetic work of R. Zamora Linmark, both in tone and thematics. We see the hijinks related to a protoqueer child coming to understand his sexuality and how his own feelings relate to the people who surround him. One recurrent theme is the problematic relationship that the lyric speaker forges with his uncle, a connection that will end abruptly when the uncle is murdered. The lyric speaker will also detail what seems to be an unacknowledged extended family, one that comes into being due to the extramarital dalliances of the lyric speaker's father. The remnants of the speaker's strong feelings for his family carry over as the collection transitions to the United States. The second half of the book changes in its approach and is much more daring in its representation. In this portion, Tan makes effective use of primarily alternating between two forms: the pantoum and the sestina. Both forms clearly function with repetition in mind, so there is something of a chant-like effect going on here. Because many of the poems focus on the death of loved ones, the collection turns far more elegiac in its quality. In "gift giver," a pantoum, the lyric speaker conveys, "the bloom of lesions & the feast of sores/ pink veined marble carved in sweet memory, the burning pyres/ he delivers each boy, moaning & spent, to his god/ softly he whispers in their ears, no death, just pleasure" (77, emphasis original). We are not exactly sure what "he" is dying from, but one of the common thematics of this final arc is the question of survival in the age of the AIDS epidemic. With titles such as "bug chaser" and "AIDS service foundation ghost," the collection provides Tan the chance to address many issues related to queer men romancing each other in a time of plague. These are both thrilling works to read and certainly perfect for course adoption, especially for any classes focused on themes of gender and sexuality or Asian American identity politics.
Buy the Books Here:
http://www.amazon.com/Type-Negative-Joel-Tan/dp/1597090182/ref=sr_1_1?ie=UTF8&qid=1311990201&sr=8-1
http://www.amazon.com/Hearts-Traffic-Ching--Chen/dp/0980040728/ref=sr_1_1?s=books&ie=UTF8&qid=1311990268&sr=1-1
A Review of Ellen Oh's Prophecy (HarperCollins Children's Division, 2013).
Ellen Oh's Prophecy is part of what will be a planned trilogy in the Dragon King Chronicles series. Oh's debut novel involves a young female protagonist named Kira who also happens to be a talented demon killer. The prophecy of the title relates to the foretelling that an individual of immense power will unite the fragmented kingdom against dangerous outside forces. Over the course of the novel, Kira is tasked with protecting her young cousin, Taejon, who will eventually assume the mantle of the kingdom and who seems to be the individual foretold about in the prophecy itself. Of course, you can imagine given that the cover states "one girl will save them all," that Kira will somehow be related to and make problematic the gendered claims on saving the kingdom. Kira's central positioning within the story makes concrete Oh's biggest sociocultural intervention: a feminist revisioning of the so-often male-dominated fantasy genre. Kira is a strong-willed character, handy with a sword and especially distrusting of anybody who takes a romantic interest in her. What is interesting is that Oh employs a historical and social tapestry that hearkens to a historically distant time in Korea, but this analog might remain more opaque for readers unfamiliar with specific ethnic themes. The publishers chose to include a useful glossary of the more difficult terminology, but I was surprised that an author's note was not included to consider some of Oh's intentions about the obviously Asiatic terrain that the narrative traverses. The novel is very fast-paced and will appeal to a readership. Admittedly, I would be considered a geriatric reader for this book in relation to the target audience (middle schoolers and teens). The most productive element of this book is the contouring of YA fictional worlds, which increasingly have included strong female characters and ethnic and minority themes.
Buy the Book Here:
http://www.amazon.com/Prophecy-The-Dragon-King-Chronicles/dp/0062091093/ref=sr_1_1?ie=UTF8&qid=1362246092&sr=8-1&keywords=Ellen+Oh
A Review of Shaun Tan's The Bird King: An Artist's Notebook (Arthur A. Levine Books, 2013).
Ah, Shaun Tan tides us over until his next completed work with his impressionistic The Bird King: An Artist's Notebook. The subtitle cues us into the rather unofficial nature of this sequence of pictures and sketches, which do not tell tales per se, but rather reveal Tan's creative mind at work at various stages. The most compelling pieces are the ones that readers will be familiar with based upon previous publications. For instance, Tan does include some of the original sketches and storyboards that would be the basis for The Arrival. This publication is a definite must-have for any fan of Tan for the simple fact of the volume's gorgeous production; many of the sketches are published in full color. For those looking for a more polished work should look to his previous undertakings, such as the aforementioned The Arrival, The Lost Thing or Tales from Outer Suburbia.
Buy the Book Here:
http://www.amazon.com/The-Bird-King-Artists-Notebook/dp/0545465133/ref=sr_1_1?ie=UTF8&qid=1362275164&sr=8-1&keywords=the+bird+king
A Review of Tosca Lee's Iscariot (Howard Books, 2013).
(hilariously enough the dimensions of this photo were 466 X 666; that's all I'm sayin!)
So Tosca Lee was one of those writers that I came upon by accident, surfing amazon.com one night in one of my fits of insomnia. I saw immediately that she had a number of novels, some penned alongside Ted Dekker, but others that were decidedly in a form that I have not had much experience reading within: that of biblical, historical fiction (Lee has also authored Havah and Demon: A Memoir). Her newest offering, Iscariot, provides Lee with the opportunity to reconsider and to reimagine the life of one of the Bible's most reviled figures: Judas. Boldly employing the first person voice, Lee creates a narrative that grants us entry into Judas's life, one that plagued by his traumatic upbringing. The early portions of the novel set the stage for the enmity between the Jews and the Romans. Judas is caught up in this strife on a tragic personal level: he must endure the crucifixion of his father, the disappearance of his beloved older brother (presumed to have been enslaved by the Romans), the defiling of his mother as she prostitutes herself in order to ensure their survival following their harrowing escape from a town under siege. Judas recovers from this childhood and eventually marries, hoping to raise a family, but his wife dies during childbirth and their child, though very close to term, does not survive. In the wake of the loss of his immediate family, Judas seeks new life fulfillments. When he hears of a messiah figure that is miraculously healing those who are disabled and plagued with illnesses, he curiously finds out who he is and then later on becomes one of his disciplines. But all is not so simple with his newfound belief in Jesus, especially as this revolutionary figure draws the ire of multiple communities and sources of power, so much so that the disciples (and Judas) often fear for their lives. Though I would consider myself a secular-type reader, this narrative did appeal to me for a number of reasons. First, Lee is not interested in denigrating Judas, but rather seeks to contextualize why he might have acted in the way he did. Second, I did grow up in a churchgoing household and biblical stories still hold a kind of fascination for me that can be traced to that period of my life. While the subject matter may not appeal to all readers, Lee's ideological project should, especially in the way that the novel cautions us from making snap judgments about figures who can be so quickly and superficially villain-ized. An idiosyncratic and imaginative fictional work.
Buy the Book Here:
http://www.amazon.com/Iscariot-Novel-Judas-Tosca-Lee/dp/1451683766/ref=sr_1_1?ie=UTF8&qid=1362687521&sr=8-1&keywords=Tosca+Lee
A Review of Neel Mukherjee's A Life Apart (Constable & Robinson, 2010).
For those of you looking to expand course offerings and to explore research interests in the Asian diaspora in relation to representations of gender and sexuality, you can look to Neel Mukherjee's A Life Apart (published previously in India under the title Past Continuous and currently only available in new editions in the UK) to find a dynamic narrative intertwining queer desire and postcolonial themes. For more on the press that published Mukherjee's work in the "west," please see:
http://www.constablerobinson.com/
Mukherjee chooses a bifurcated third person narrative perspective, one which follows Ritwik, a gay Indian man who migrates to London for a university education. The second takes place in the British colonial period of India around the turn of the century and involves a kind of governess figure, Miss Gilby, who comes to work for the Chowdhury family. This work situation is tenuous insofar as the Chowdhury's struggle to retain a measure of normalcy to their lives as Bengal begins to disintegrate in the midst of religious factionalism. The two temporally and geographically narratives seem hardly linked at first, but as the novel moves forward we begin to see the elliptical ways that migration and homeland, otherness and physical violence, can unfortunately and tragically brew together. The other risk that Mukherjee takes on is in having the reader having to be equally invested in both stories; the contemporary tale is, in some sense, much more accessible and the narrative movements to colonial-era India occasionally strike with discordant tones, especially for the reader who may be impatient to see the link between the two sections more strongly delineated. The biggest draw from my perspective is Mukherjee's unflinching look at Ritwik's coming-of-age and his acceptance of his queer sexuality, which take him into the perilous world of prostitution and cottaging and ultimately encourages him to take on a status as an undocumented immigrant. The naturalistic narrative trajectory is in some sense exactly right, especially as the concluding arc sees Ritwik increasingly rely upon diffuse connections and his various sexual escapades to float him through the next day, the next week, and perhaps, in some cases, with that most generous john, into the next month. Ritwik does strike up an intriguing friendship with an aged woman, Anne Cameron, who provides him with some measure of financial solvency, as he cares for her. The scenes involving Ritwik taking bodily care of Anne (in relation to her bathing) are penned with an especially astonishing and unsentimental style. A very promising debut novel and the beginning of what we would hope to be an illustrious literary career.
Buy the Book Review:
http://www.amazon.com/A-Life-Apart-Neel-MUKHERJEE/dp/184901101X/ref=tmm_hrd_title_0?ie=UTF8&qid=1361733160&sr=8-4
A Review of Embodying Asian/ American Sexualities edited by Gina Masequesmay and Sean Metzger (Lexington Books, 2010).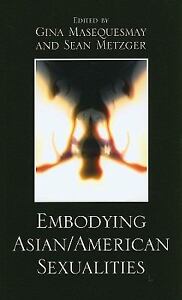 In this brief review, I just wanted to point out one of the intriguing additions to the field of gender and sexuality studies in relation to Asian American contexts and cultures. After edited anthologies by Russell Leong (Dimensions of Desire) and David Eng and Alice Y. Hom (Q&A), I haven't seen many collections like this one that really take on issues related to Asian American gender and sexuality. What is particularly noteworthy about Masequesmay and Metzger's collection is their embrace of the multigenre and multidisciplinary format: cultural criticism, creative writing, fictional interviews, activist-scholarship, among other such individual pieces populate this eclectic work. Readers will definitely find a dynamic experience moving through this edited anthology. My favorite individual selections appeared actually latest in the collection, on topics that have gotten little scholarly attention thus far: homosexuality in the Korean American evangelical context and critical considerations of the Cambodian cultural production. For those looking to add course material to courses on gender and sexuality in Asian American literature, this edited collection would obviously be ideal.
Buy the Book Here:
http://www.amazon.com/Embodying-Asian-American-Sexualities-Masequesmay/dp/073912904X/ref=sr_1_1?ie=UTF8&qid=1362246819&sr=8-1&keywords=Sean+Metzger