You're stuffed to the gills with turkey and tofu-rkey, now it's time to read some Asian American literature!
In this post, reviews of: Cassandra Chan's Trick of the Mind (St. Martin's Minotaur, 2008) and Cassandra Chan's A Spider on the Stair (St. Martin's Minotaur, 2010); Imran Ahmad's The Perfect Gentleman (Center Street Press, 2012); Sarwat Chadda's The Savage Fortress (Arthur A. Levine Books, 2012); Mine Okubo's Citizen 13660 (Reprint edition, 1983); Aamer Hussein's Another Gulmohar Tree (Telegram Books, 2009); Sarah Jamila Stevenson's The Latte Rebellion (Flux Press, 2011); Jenny Han and Siobhan Vivian's Burn for Burn (Simon and Schuster for Young Readers, 2012).
A Review of Cassandra Chan's Trick of the Mind (St. Martin's Minotaur, 2008) and Cassandra Chan's A Spider on the Stair (St. Martin's Minotaur, 2010).
For those looking for a little bit of British culture and simultaneously interested in mystery plots, you must turn to Cassandra Chan's Phillip Bethancourt and Jack Gibbons series. I am reviewing Chan's third installment, Trick of the Mind, though I eventually intend to get to at least one more of these entertaining novels. In Trick of the Mind, Phillip Bethancourt is called in to help with his friend's case. You see DS (detective sergeant) Jack Gibbons has been shot and boasts short term memory loss and cannot remember any of the events of the day leading up to his shooting. He is in the hospital with a serious injury and there is fear of an infection that might lead to peritonitis. Jack was investigating a case involving a jewelry heist of a rich dowager by the name of Miranda Howard. Much of the novel remains invested in the mystery of the events of that day and Chan puts many characters in Jack's own investigatory office to help out, including another detective sergeant named O'Leary as well as Jack's superior named Carmichael, a more crotchety and no-nonsense character. Why was Jack seen in the area known as Waltham? Who was Jack seen to be following that day in a separate taxi? And of course, who ultimately shot him? Who was Jack calling that day? The suspect list begins to grow slowly and deliberately and Chan shows a great patience in letting this novel unfold. For instance, Jack's cellular phone reveals that he put in a call to his relative, a woman named Dawn Melton. Dawn, as we had discovered, was already previously questioned, and lied about ever having received any contact with Jack that day he was shot. When the police force are able to recover the contents of Jack's notebook, though it had been splattered in blood and at first unreadable, Jack must attempt to re-translate certain shorthand symbols concerning his preliminary work in the jewelry heist investigation. Chan throws another mysterious wrinkle into the equation because it seems as though the jewelry heist may in fact be related to a murder that occurred with someone in that Waltham area, a pawn shop owner who once dabbled in jewelry theft. The connection is unclear so Jack must attempt to help pull all the strands together while his buddy is in the hospital, recovering from his various wounds. One of the novel's great strengths is in Chan's consideration of British cultural elements; though I am not expert there, certainly, there is an attempt to configure such aspects through spirited dialogue. Further still, Phillip is an entirely singular character, with great love for his dog Cerberus; he comes off both as professional and comic at the same time.
In A Spider on the Stairs, our plucky detective Jack Gibbons is now up and about and looks to investigate the murder of one Judy Faraday, found strangled in a bookshop in the area of York during the Christmas holiday season. This murder is of some concern because the investigators are unsure whether or not it may be linked with the Ashdon serial killer. Once it seems as though the serial killings are not attached to Faraday's murder, Gibbons and Phillip Bethancourt head off to interview everyone connected with the bookshop. Much revolves around Faraday's rather idiosyncratic life: she had very few close friends and was known to be a little bit of an eccentric. Why was she in York and given the fact that she had not worked at the bookshop for many years, why was she even found there? As the investigation turns up few leads, Gibbons and Bethancourt's investigation is given another huge wrinkle when a prominent customer of the bookshop (named Sanderson) is murdered. In this case, the crime scene bears some clear resemblance to the Ashdon serial killings. More problematic is that Faraday, Sanderson, as well as a previous homicide victim (named Veronica Matthews) all seem to have a connection to the bookshop. If Faraday was not the victim of the serial killer, yet all three have had some sort of relationship to the bookshop, who is perpetrating such horrific crimes? Though the murder and mystery plots are quite dark, Chan always balances the investigation with Bethancourt's cassanova-esque ways. In this novel, his seesawing relationship with Marla comes to a head and he must consider whether or not all the drama is really worth it. When the novel finally reaches its conclusion, Chan stages a brilliant interrogation sequence that sees our mystery and the murders finally and completely solved. At this time, Chan does not have a fifth installment in the works (at least according to amazon) but we hope to see Bethancourt and Gibbons back in action soon!
Buy the Books Here:
http://www.amazon.com/Trick-Phillip-Bethancourt-Gibbons-Mysteries/dp/B002XULWVG/ref=sr_1_1?ie=UTF8&qid=1350488900&sr=8-1&keywords=Cassandra+Chan
http://www.amazon.com/A-Spider-Stairs-Cassandra-Chan/dp/0312369409/ref=sr_1_4?ie=UTF8&qid=1350972132&sr=8-4&keywords=Cassandra+Chan
A Review of Imran Ahmad's The Perfect Gentleman (Center Street Press, 2012).
Imran Ahmad's The Perfect Gentleman: A Muslim Boy Meets the West is a comic coming-of-age memoir that explores the author's upbringing in the UK. Ahmad takes a rather strict structuralist approach to the construction of the memoir in that it faithfully details every year of his existence until about the age of 25, when he gets married. Then, the last chapters skip a number of years, leaving behind rather large gaps that illustrates the complications of the creative nonfictional genre. On the one hand, Ahmad is quite keen on the problems of growing up as the "Muslim Boy" in the "West," particularly as he must deal with many of his more Christian-oriented classmates, who even occasionally seek to convert him from his apparently heathen ways. Further still, Ahmad is quite adept at detailing his long suffering, unrequited love affair with his peer, a woman named Janice. The torch that he carries for Janice is one of the ways that the memoir keeps an emotional center. Even when Ahmad finds himself attracted to other women, somehow he keeps fixating on his eventual romantic union with Janice. Though this plotline never carries out, his devotion to her is the subject of many spirited sequences throughout the memoir. On the other hand, Ahmad also makes sure to explore some of the larger contextual and historical dynamics that are occurring as he grows up. Often times, his personal arc is weaved together with the complicated dynamics taking place in the United Kingdom, in South Asia and in the Middle East. As detailed as Ahmad is in tracking his life through his first 25 or so years, it is perhaps the un-narrated section that strikes me as the most interesting. Indeed, he seems to realize that his arranged marriage is not the right path for him, so we wonder about the 12 or so years that are omitted, the ones that saw him through a divorce and leaving the land of his birth to work elsewhere. These aporias are what point us to the limits of the creative nonfictional genre, but fortunately, we'll be carried through such breaks by Ahmad's many misadventures as he attempts to find his way as a Muslim in the West.
Buy the Book Here:
http://www.amazon.com/Perfect-Gentleman-Muslim-Meets-West/dp/1455508497/ref=sr_1_1?ie=UTF8&qid=1352229764&sr=8-1&keywords=the+perfect+gentleman
A Review of Sarwat Chadda's The Savage Fortress (Arthur A. Levine Books, 2012)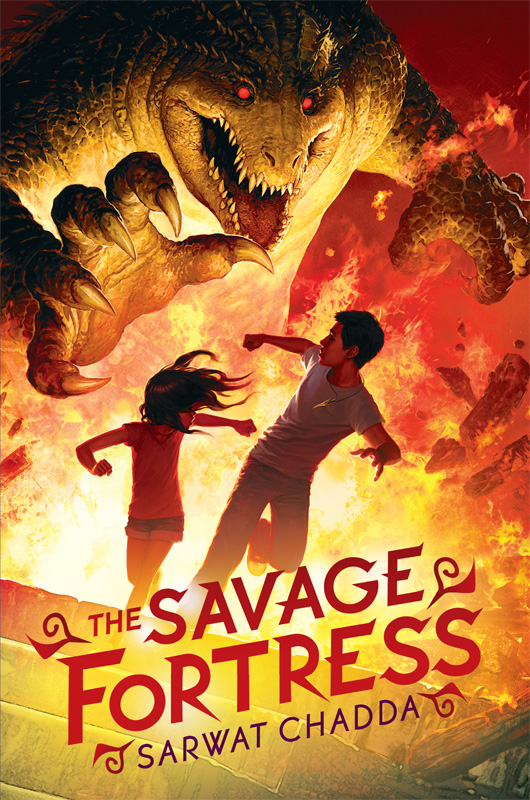 Sarwat Chadda's The Savage Fortress is one of the first that I've read in the young adult fiction genre with the paranormal elements that actually includes an Asian American protagonist. In the others I've read and the many that have been reviewed here, race more broadly becomes this unspoken element in these works. For instance, Paul Lai recently reviewed Kat Zhang's What's Left of Me, the first in her hybrid chronicles series, and it was interesting to see the trailer and how they cast the protagonist. Though the main characters are never racially marked, the trailer necessarily and more directly offers an entry into the choices behind casting and how we must visualize the characters. In Chadda's The Savage Fortress, our hero is Ash (short for Ashoka) Mistry and to a lesser extent his younger sister, Lucky, who have traveled to India and are visiting their Aunt and Uncle. They all visit some important sites with historical and anthropological significance, including the titular Savage Fortress, connected to a mysterious and wealthy man named Alexander Savage. But all is not well as the Savage Fortress and soon Ash and Lucky are embroiled in a dangerous adventure, which soon claims the lives of their Aunt and Uncle. Their primary antagonists seem to be rakhasas who are shapeshifting entities with incredible and deadly powers. With the help of another mysterious figure, Rishi, Ash and Lucky begin to fully explore the magical world in which they are now enmeshed. No young adult fiction would be complete with the possibility of potential romance and even our young teen protagonist finds himself wondering about the possibilities of courtship in relation to a beautiful rakhasa named Parvati. Chadda has done some exceedingly interesting work by exploring the Hindu religious mythology and re-routing it here in this work. Many of the characters that appear in this work are reincarnations of past figures and it becomes evident that this novel is as much about breaking cycles of violence and trauma as it is about exploring heroism and courtship. More exciting still is that this novel seems to be part of a new series with Ash Mistry at the center. I will be interested to see how Chadda will develop the hero figure at the center of this series, especially as a contrast to his previous series, which focused on a female lead.
Buy the Book Here:
http://www.amazon.com/The-Savage-Fortress-Sarwat-Chadda/dp/0545385164/ref=sr_1_1?ie=UTF8&qid=1352145735&sr=8-1&keywords=savage+fortress
A Pedagogy Report – Mine Okubo's Citizen 13660 (Reprint edition, 1983).
(this is the original 1946 cover in a high resolution scan!)
The first book I have assigned for my ENGL88N: Graphic Narrative Asian American Style course is Citizen 13660, a virtual staple of the field, though it has long stood alone in its recognition in terms of its form. I begin with Citizen 13660 because it offers one of the foundational ur-narratives of Asian American literature—that of the Japanese American internment. Mine Okubo's Citizen 13660 was first published in 1946, not very long after her internment period and stands as an intriguing work simply because it comes out during a period when anti-Japanese sentiment was still high. Okubo like others publishing around this time (like Jade Snow Wong and Monica Sone) could not simply express direct outrage over perceived injustices. Indeed, while reading Citizen 13660, the most negative experiences are rendered without noting the violation of civil liberties that had occurred. These are the social contexts in which graphic narrative much be embedded and Citizen 13660 shows us that the cultural productions must be historicized with respect not only to the time in which they were published, but how the cultural production itself changes meaning across time (especially given the eventual birth of Asian American Studies). Citizen 13660 is also interesting as a graphic narrative because it doesn't obey what might one might consider a more traditional tenet: that there is a sequential storyline, something that Scott McCloud might call a "sequential" art. Some might call Citizen 13660 an illustrated novel. But Okubo's approach is still important to consider with respect to the lack of relative sequencing from one frame to the next, giving us a sense of the directionless and purposelessness of the internment experience. The other element I plan to bring up in class is the way in which Okubo appears on almost every panel; what purpose does this serve? Why must she be in every panel? From whose perspective do the "panels" arise?
Buy the Book Here:
http://www.amazon.com/Citizen-13660-Mine-Okubo/dp/0295959894/ref=sr_1_1?ie=UTF8&qid=1347504496&sr=8-1&keywords=Citizen+13660
A Review of Aamer Hussein's Another Gulmohar Tree (Telegram Books, 2009).
Aamer Hussein is a Pakistani-British writer who I have wanted to read for a very long; he's published numerous fictional works, including This Other Salt and Turquoise. Another Gulmohar Tree is a deceptively short novel that begins with a strange allegorical sequence about the land of crocodiles; this piece does not become important until we read the second half of the novel, which is a more traditional narrative, following the lives of an interracial couple: Usman, a Pakistani writer, and Lydia, a British-Scottish artist and writer. Lydia eventually moves to Pakistan and settles in a comfortable life with Usman, taking on a new name Rokeya, and raising their children there. Like Doshi's Pleasure Seekers, this novel sees the "wife figure" move to the husband's "homeland" country and attempt to assimilate to this new culture and landscape. In this case, Rokeya has little problems adjusting. Indeed, she eventually flourishes there, even though her artistic and creative aspirations remain secondary to the career of her husband. For his part, Usman finds his own connection to writing quite tenuous. On the one hand, there is the question of which language to write in, as he is fluent in multiple languages. Further still, his connection to the larger literary establishment is vexed and he shifts in his own approach to the construction of narrative in the latter half of his career, where allegory and symbolism become far more important. Thus, we begin to see that the first half of the novel actually speaks to these questions of assimilation, national identity, and heritage that much of the second novel concretely maps out. While there are occasionally some marital tensions that surface, what the novel seems to ultimately reveal is Usman's understanding of the faith and the unshakeable love that Rokeya retains for him, something that becomes evident in the way he can read her actions, her half-unfinished artistic pieces, her half-unfinished writerly projects. She could simply be content in the exploration of these interests without having to finish them, because for her, the meaning of life and fulfillment could be found in the family and country she had come to call her own.
Buy the Book Here:
http://www.amazon.com/Another-Gulmohar-Tree-Aamer-Hussein/dp/1846590566/ref=sr_1_2?ie=UTF8&qid=1350083923&sr=8-2&keywords=Aamer+Hussein
A Review of Sarah Jamila Stevenson's The Latte Rebellion (Flux Press, 2011)
So, school is officially in full swing. I'm not getting nearly as much reading done as I'd like to, but I managed to squeeze in time this week to read Sarah Jamila Stevenson's The Latte Rebellion, a rather spirited work about the complications of mixed-race identity in what has been called the "mulatto millennium." The novel is told from the perspective of part-Indian/Irish/Mexican American Asha Jameson, who with her fellow mixed-race buddies start an unofficial and non-sanctioned high school club known as the Latte Rebellion. Their initial intent is simply to sell t-shirts to get the funds to travel to Mexico, but the club soon turns into something far more political, a platform of sorts to explore issues of mixed-race identity in our increasingly multiracial United States. In some ways, I can't help but think that the novel could have found few other places to be set than Northern California, where issues of racial and ethnic consciousness might arise simply based upon the highly heterogenous makeup of some urban and suburban areas. One of the most interesting aspects of the novel is that one of the primary antagonists is an Asian American student who calls Asha a "towelhead" early on in the novel. This incident, in part, spurs Asha to identify herself as a multiracial subject rather than strictly Asian American. Indeed, the novels calls out the complications of identity politics in an age where multiracial ancestries are increasingly commonplace. There is of course a romance plot to spur part of the novel forward, but its heft remains strongly in its consideration and reconsideration of race and ethnic communities in the contemporary moment and how politicism might develop in unexpected places. The novel also includes a particularly interesting plot development concerning Asha's potential expulsion from high school due to the latte rebellion's influence in fomenting high school "revolution." I thus have to commend Stevenson for taking up such a politically relevant topic in a realist context.
Buy the Book Here:
http://www.amazon.com/Latte-Rebellion-Sarah-Jamila-Stevenson/dp/0738722782/ref=sr_1_1?ie=UTF8&qid=1349114980&sr=8-1&keywords=Sarah+Jamila+stevenson
A Review of Jenny Han and Siobhan Vivian's Burn for Burn (Simon and Schuster for Young Readers, 2012).
So, I'm always curious as to the status of co-authored books. How are they written and what level of collaboration exists during the writing process? In any case, while I'm unable to answer such questions for now, I am going to be reviewing Jenny Han and Siobhan Vivian's Burn for Burn, which is, I believe, the first part of a trilogy, which places this book alongside the many other young adult fictions which are being published in three parts. Burn for Burn is told from in alternating first person perspective among three different characters: Mary, Kat, and Lillia. Each has experienced what they consider to be a form of a betrayal by another character within the fictional world. Mary suffered especially aggressive and traumatic taunts by another classmate named Reeve, whose companionship she had at one point valued quite highly. Kat used to be besties with a classmate named Rennie, but Rennie ends up dropping Kat and moving on to become friends with those who will become the most popular set at the local high school. Rennie herself will become Queen Bee. And finally, Lillia believes that one of her closest friends, Alex, hooked up with her younger sister, Nadia. Of the three characters, Han and Vivian only explicitly racializes Lillia, who is of Asian descent, though the ethnic background (at least from my estimation) is never clarified (though we suspect she may be Korean). These three narrators operate in very different sectors of high school life. Lillia is part of the popular set, whereas Kat, seems to be more illustrative of the high school counterculture. Mary is the new girl and has not settled into a particular crowd. The three come together in what can only be described as a tenuous community, once they decide that they will work together to get their revenge! At this point, the novel picks up quite a bit of steam. We're invested in seeing how they will manage to work together to pick off each antagonist, but perhaps one of the most tragic elements of this novel is how much each character seems to be filled with insecurity, hatred, and animosity. Moments of true camaraderie are fleeting and so we're not surprised by the rather unclosed conclusion. There's also a strange point at which you you're wondering if the novel has shifted into a super-realist register and we're in a Stephen King novel, but perhaps that's revealing too much. As with Han's other books, the high school characters seem rather ignorant of or simply do not think beyond their most immediate circumstances. Rarely are classroom lessons or current events a part of their daily vocabulary leading one the narrative to seem historically ungirded, almost timeless in its representation.
Buy the Book Here:
http://www.amazon.com/Burn-Jenny-Han/dp/1442440759/ref=sr_1_1?ie=UTF8&qid=1351535700&sr=8-1&keywords=Burn+for+Burn