Asian American Literature Fans – Megareview for June 10, 2012
In this post, reviews of Belle Yang's Forget Sorrow: An Ancestral Tale (W.W. Norton, 2010); Ira Sukrungruang's Talk Thai: The Adventures of Buddhist Boy (University of Missouri Press, 2011, paperback version); Camy Tang's Protection for Hire (Zondervan, 2011); May-lee Chai's Glamorous Asians: Short Stories & Essays (University of Indianapolis Press, 2004); Shizuye Takashima's A Child in Prison Camp (Tundra Books Reprint, 1992; originally published in 1971); Tan Twan Eng's The Garden of Evening Mists (Myrmidon Books, 2012); Mei Ng's Eating Chinese Food Naked (Scribner, 1998).
A Review of Belle Yang's Forget Sorrow: An Ancestral Tale (W.W. Norton, 2010).
I've been really remiss about reviewing this title; I'm actually planning to teach this graphic memoir next year in a new course I've designed on the Asian American graphic narrative. Belle Yang, author of a number of other children's books, focuses on an adult audience with this particular narrative, which plumbs the complicated background of her father. Her father's family tree includes three uncles and two aunts; his own father (Belle's paternal grandfather) is the eldest son of the Yang clan and ostensibly the one charged with quite a bit of responsibility, but all is not well with the Yang clan. One of the aunts dies quite young, and later, the third son's attempt to gain control of the family's large land holdings results in a large-scale reduction in the class status of the other siblings. With the various disruptions occurring across the 20th century in China, which include the Japanese invasion and the rise of the Communist government, the latter half of the memoir focuses on what the various siblings must do in order to survive. The third son is eventually charged with crimes of capitalism under the communist regime and dies in a labor camp. The Yang patriarch (Belle's great-grandfather) cannot find safe harbor with any of his sons, until he chances upon the eldest son's family. The fourth son refuses to take the Yang patriarch in because of his connections to landowning. For his part, Belle's father eventually ends up in Taiwan; a reunion with his family only brings about further distress and he realizes that me must, for all intents and purposes, strike out on his own in order to carve out a sustainable life. The other main narrative arc involves Belle's rise to her artist-identity. In this way, Forget Sorrow is certainly a kuntslerroman, as Belle comes to discover her voice and the importance of her background to her life. My one critique of the memoir comes in the form of the ways that time shifts often seem rather abrupt. One of the techniques I've occasionally seen in other graphic works to denote a change in time is some shift in color. Because Yang's work is entirely in black and white, there is often little to signal time change.
Pylduck earlier reviewed the work here:
http://asianamlitfans.livejournal.com/75897.html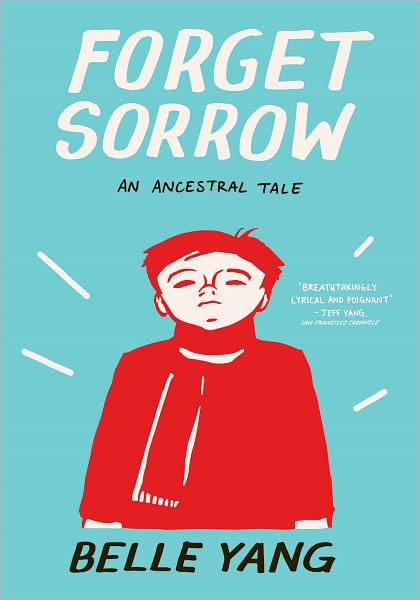 I sort of had to laugh when pylduck connects the work to Tan's The Joy Luck Club, only because I didn't really see the mother-daughter connection so much, but certainly the ways in which the Chinese past comes up and surfaces as a way to reconstitute and reorient the life of the Asian American female subject is certainly there.
Buy the Book Here:
http://www.amazon.com/Forget-Sorrow-An-Ancestral-Tale/dp/0393339963/ref=sr_1_1?ie=UTF8&qid=1331423763&sr=8-1
A Review of Ira Sukrungruang's Talk Thai: The Adventures of Buddhist Boy (University of Missouri Press, 2011, paperback version)
Ira Sukrungruang's Talk Thai: The Adventures of Buddhist Boy is a pretty hilarious read. There was one moment where I simply busted up out loud. My neighbors were probably wondering what happened, probably thinking I was watching television. Sure, Talk Thai is also the consummate immigrant story. Our anti-hero Ira is a Thai immigrant, attempting to acculturate to the strange world of the United States. Over time, he loses some of his ethnic attachments and embodies the slash that we sometimes see between the terms Asian and American. He struggles to make friends at school, but eventually forms a clique of anti-heroes alongside his white friends, Mike and Kevin. Then, there's the Thai side of his life, which primarily occurs on the weekend. He hangs out with another kid, Sampan, who is one year older; they pal around on trips to Niagara Falls and around the temple, where Buddhism is an important part of Ira's life. There are chapters devoted to Ira's growing interest in golf, a sport introduced to him by his father; other chapters explore the close friendship between Ira's mother and her fellow Thai immigrant friend, Aunty Sue. But the true gem of this memoir is Sukrungruang's comedic self-deprecation and willingness to revel in the awkwardness that is the experience of immigrant youth. As the memoir moves toward its conclusion, the narrative takes a darker turn and we see how Sukrungruang's impending adulthood is, in many respects, predicated on the understanding that his parents possess far more flaws than he realized. Talk Thai is also such an engaging read for the simple that there are so few works that deal with Thai contexts. It's been awhile since I've read anything by a writer of Thai background and here I'm only thinking of S.P. Somtow, author of superb speculative fictions and of course the underrated Jasmine Nights and Lawrence Chua, author of one of my favorite novels ever, Gold by the Inch. But Sukrungruang is far more in line with the work of Rattawut Lapcharoensap (see the must-read known as Sightseeing). Both have mastered that rare form of tragicomedy: you'll laugh, you'll cry, then you'll recommend this book to a friend.
Buy the Book Here:
http://www.amazon.com/Talk-Thai-The-Adventures-Buddhist/dp/0826219322/ref=sr_1_1?ie=UTF8&qid=1339344330&sr=8-1&keywords=Talk+Thai
A Review of Camy Tang's Protection for Hire (Zondervan, 2011).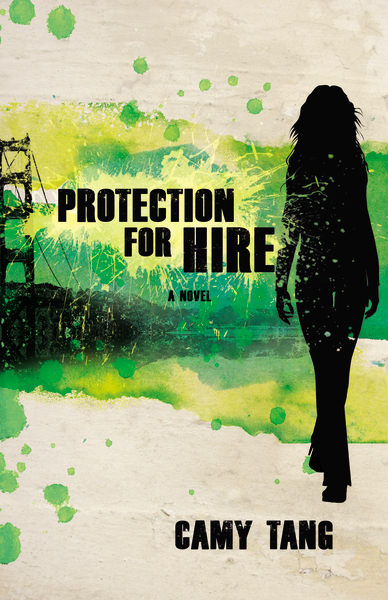 Zondervan is one of the first independent presses that I've seen that explicitly targets Christianity as part of its literary offerings. In this respect, I was intrigued to see that it publishes the work of Camy Tang, an author who has written books in the ethnic romance genre such as the "sushi series" as well as a number of other titles that are written more along the lines of suspense and mystery. I was intrigued to see how Tang would combine elements of Christian faith and ethnoracial themes in her work Protection for Hire and I am reviewing it here! In Protection for Hire, our hero and protagonist is Tessa Lancaster, a woman of Japanese ancestry who once worked for the Yakuza. The novel's opening sees her take the fall for a crime she did not commit (she covers for a family member) and during her stint in jail, she converts to the Christian faith. Once she is freed, she swears off working for the Yakuza and instead becomes something of a free agent. She is hired by a woman named Elizabeth to be her bodyguard, as Elizabeth has been targeted by her powerful and goon-like husband, Heath, in a violent domestic abuse issue. Elizabeth also obviously fears for her young son, Daniel, who as of late had also become a target for Heath's abuse. Heath presents such a significant danger that Tessa decides it is a necessary evil for Elizabeth and Daniel to hide out at the home of Tessa's sister, Alicia (where their mom and Alicia's daughter lives). This housing is only temporary and it soon becomes evident that Heath may have more that domestic abuse on his mind, so Elizabeth and Daniel must be moved again. Another wrinkle is added to the equation in the form of our primary romance figure, Charles, a lawyer who decides to take on the legal side of the rupture between Elizabeth and Heath. Elizabeth, though ostracized from a very famous family, is still considered to be a public relations coup for Charles's law firm and they see to it that they take the case pro bono. At the same time, Charles must deal with his growing feelings with Tessa, a problem insofar as he can't quite fully wrap his head around the fact that Tessa is the same person who was jailed so many years ago. Charles wonders: has Tessa truly reformed and can she really be the Christian that she claims to be? Such romantic tensions and issues of faith combine with the legal plotting to generate a narrative that moves swiftly by. And some more major spoilers: The concluding arc gets quite frenetic when a lawyer is murdered, Tessa is pinned for a crime, (Chinese) Triads seem to be involved, and somehow, Charles's boss, Manchester Greer, might also be mixed up in all of this… no one seems to be safe. For those interested in geographic contexts, Tang is particularly adept at marking the San Francisco Bay Area within the novel, as the Silicon Valley, the city proper, and San Jose are routinely traversed. But best of all, the adventure will continue as the Protection for Hire series has a new entry in Fall 2012. An electic mix of the spiritual and the suspenseful, with a crackling plot that shows Tang's mastery of the genre.
Buy the Book Here:
http://www.amazon.com/Protection-Hire-Novel-Camy-Tang/dp/031032033X/ref=sr_1_2?ie=UTF8&qid=1335539661&sr=8-2
A Review of May-lee Chai's Glamorous Asians: Short Stories & Essays (University of Indianapolis Press, 2004).
May-lee Chai's Glamorous Asians is a mixed-genre work that compiles a diverse set of short stories and two spirited creative nonfictional essays to conclude. I'll speak about some general impressions about some of the pieces. First off: it's clear that Chai is operating from what we might call a more racialized perspective. These short stories engage various Asian ethnic contexts and include characters of Filipino, Cambodian, Chinese, and Japanese ancestries. One of the pieces, "Saving Sourdi," would later by included in Dragon Chica, which was already reviewed on Asian American Literature Fans. My favorite stories are "Easter" and "Your Grandmother, the War Criminal." "Easter" focuses on a mixed race Filipino high school aged female character who helps her brother out in his chicken farm, harvesting eggs. There is one rooster in particular that exhibits a queer sexuality, but is the protagonist's favorite. Her identification with this rooster, despite its apparent defective reproductive capabilities, metaphorically speaks to her own position as a mixed race daughter, struggling to find her place among family members who seem resigned to their fragile fates. "Your Grandmother, the War Criminal" reminds us the conclusion to Julie Otsuka's When the Emperor Was Divine; there is a unique narratorial voice here which works to archive the Japanese American internment experience. The title is an obvious critique of the enemy alien designation that marked the Japanese American internees as suspicious figures. The title of the collection comes from the nonfictional piece that is the penultimate entry in this collection. In "Glamorous Asians," Chai explores conceptions of beauty and aesthetics in relation to Asian American communities. One of the most interesting aspects of this entry is its consideration of Chinatown beauty pageants and the question of whether or not anything particularly unique is afforded to ethnic communities by having such pageants. The last piece, "Yellow Peril," is an excellent closing because it offers a summative perspective of the writer and provides more of a sense of Chai's writerly location. Like Don Lee's debut short story collection, this piece reveals the ways in which individuals come to embrace a racial rather than a more singular ethnic identity. Glamorous Asians would be a wonderful work to add to introductory courses in Asian American literature; the last two essays could certainly be excerpted.
Buy the Book Here:
http://www.amazon.com/Glamorous-Asians-May-lee-Chai/dp/0880938579/ref=sr_1_1?ie=UTF8&qid=1332954706&sr=8-1
A Review of Shizuye Takashima's A Child in Prison Camp (Tundra Books Reprint, 1992; originally published in 1971).
Shizuye's Takashima's A Child in Prison Camp came out long before Joy Kogawa's Obasan would become required reading for Asian North American literature classes, though they explore similar thematic terrains. Takashima's A Child in Prison camp focuses on her Shizuye's experiences through the (slightly) fictionalized perspective of a young girl nicknamed Shichan. Her family must endure the rather difficult living conditions in the Canadian rockies, but as with many other interment communities, they still mold their prison into a home of sorts. Over time, they manage to get running water, so the family does not have to constantly travel to and from wells; a community bath is later installed and the various internees stage festivals and cultural events such as kabuki plays. The form of this work is perhaps what is most interesting. It seems to be a combination of poetry and prose, as the entire work continually employs line breaks. Because this work (which is fictionalized to a certain extent as we understand from the author's note that accompanies the text) is told from the perspective of a young girl, the observations appear more as reportage and do not show a high reflective insight, but this approach perhaps makes the narratiev all the more tragic. The young girl does not necessarily perceive her experiences as a trauma, but it becomes clear by the conclusion and the epilogue that she understands that what she endured was a grave injustice. Indeed, the epilogue involves the prime minister of Canada issuing an apology to Japanese Canadian internees and so these child-like observations are in some sense recast and recontextualized as those of a young girl who must make the best of problematic circumstances. Shichan's father presents the most vocal figure of dissent, the individual who speaks passionately about the violation of their civil liberties and who eventually pressures the family into moving back to Japan, but when the atomic bomb explodes, they must reconsider their options. Perhaps, the most extraordinary element of this work is the inclusion of photos that show Takashima's beautiful watercolor illustrations and representations of her time at camp. I wanted these photos on a larger page and at a higher resolution and I hope I can find some of these photos online, so you can see how amazing they are; reminiscent of the power of these rare documents to represent such a dark time in North American history, alongside the limited visual archive offered by others such as Mine Okubo, Dorothea Lange, and Ansel Adams.
Buy the Book here:
http://www.amazon.com/Child-Prison-Camp-Shizuye-Takashima/dp/0887762417/ref=sr_1_1?ie=UTF8&qid=1332867065&sr=8-1
A Review of Tan Twan Eng's The Garden of Evening Mists (Myrmidon Books, 2012).
*Spoilers henceforth*
I earlier reviewed The Gift of Rain, which was one of the best books I read last year in the "postcolonial" area. It stands fondly in my memory (alongside Roma Tearne's Mosquito and Bone China) as truly unexpected finds in the sense that I didn't have any expectations about what I would be reading when I started on the first page and was later dazzled by both the story and the prose. In The Gift of Rain, Eng focuses on the dangerous gambles that individuals make during wartime. The protagonist, Philip Hutton, eventually decides to cast his lot with the Japanese colonials, believing it will protect his family. Certainly, part of his decision is based upon the trust he puts in his sensei, Endo-san, but the lines of betrayal are complicated and the best thing about this novel is that it always makes it difficult to fully see who is a perpetrator and who is a victim. It is in this gray area that Eng succeeds in exploring the twisted contours of war.
In this respect, The Gift of Rain, can be seen as a companion book to Tan Twan Eng's The Garden of Evening Mists, which is currently only available in the UK and published through Myrmidon Books. I'm not sure when and if the book will ever be published in the United States, but I believe you can acquire a copy internationally and directly through the Myrmidon Books website:
http://www.myrmidonbooks.com/Garden-of-Mist.html
In any case, The Gift of Rain focuses on a mixed-race colonial family. The first person narrating protagonist, Philip Hutton is of British and Chinese ancestry. The novel is a telling (for the implied audience) and a re-telling (for Philip who of course already knows what happens). In that case, Philip Hutton is conditioned to tell the story of his former teacher and friend, Endo-san, at the behest of Michiko Murakami, a former flame of Endo-san and who is dying of cancer and who has visited Philip in Malaysia. In The Garden of the Evening Mists, we have a similar structure in terms of telling and re-telling. Our protagonist, Yun Ling Teoh, is successful judge who has just retired. She decides to visit an old estate with the titular garden, Yurigiri, which has fallen into disrepair. She entertains the visit of a scholar, Tatsuji, proclaiming his interest in her associations to a famous gardener, Aritomo, who had originally tended to Yurigiri. Tatsuji's visit also reminds her of the past and we discover that she is suffering from an incurable form of neuro-degeneration, which will eventually result in her inability to understand language and to communicate. Thus, she is impelled to write about her past. In this respect, the novel is not unlike Philip Hutton's recounting, precisely because she is looking to unlock aspects of her past. The past is a dark one: Yun Ling Teoh is the sole survivor of a Japanese labor camp. She only comes to know Aritomo because she wants to honor the memory of her sister, who suffered as a comfort woman and later died in that labor camp. Her sister loved Japanese gardens and though Yun Ling does not want to work with anyone Japanese, she swallows this bitter pill in order to potentially honor the memory of her sister. But, everyone seems to have a darker past. Yun Ling wants to know more about Aritomo's past, which is shrouded in mystery. Further still, Yun Ling's history as an individual who helped investigate war crimes has not helped her standing with those who are currently invested in the insurgency, otherwise known as the Malayan Emergency period (this is the same historical context that had grounded the text I earlier reviewed Han Suyin's And the Rain My Drink). The cast of characters that rounds out this text include Magnus Praetorius, an expatriate from South Africa and an avowed hater of the British, his nephew, Frederik, and Magnus's Malaysian Chinese wife, Emily. Eng's writing is also such a pleasure to bask in and I always felt assured that his narrative was leading somewhere slightly unexpected. One such turn is the pivotal location of a prized tattoo design that Aritomo may or may not have designed and which may actually be found on a living body: what was the design and what did it mean? There is not much more to say except that you must read this book =).
Edited to Add: The U.S. edition will be released in September apparently, but I wouldn't wait. Buy it now! LOL.
A Review of Mei Ng's Eating Chinese Food Naked (Scribner, 1998).
At some point in time around five years ago, I read this novel, but I re-read it this past month and the only plot point I remembered is that by the end the main character, Ruby Lee, has decided to end her one semi-stable romantic relationship in favor of being honest with herself, trying to find out what she really wants rather than settling for a half-baked romance with a white guy named Nick; I recalled also that part of her breaking up was due to the fact that she was attempting to reconcile her repressed lesbian desires. On re-reading the novel, I'm surprised that I didn't have more impressions of this work (part of the peril I think of not always having anyone to discuss my reading with). Going back through the narrative reminds me that I probably cast off the novel as another mother-daughter narrative plot—not that there's anything WRONG with the mother-daughter narrative, but there was a point in time when I was getting tired of the variations on it and I just wanted to read something else. I'm guessing that this novel fell through the cracks; it has much more of a kinship with the anti-The Joy Luck Club novel, Bone, than it does The Joy Luck Club itself. The third person omniscient narration mostly follows Ruby Lee, the college age protagonist as she navigates a perilous summer living back home with her folks: Franklin and Bell Lee. Ruby has two siblings, an older brother, Van, and older sister, Lily. Van ends up leaving the home completely and is essentially estranged from the family; he marries a woman named Jeanette. Lily, on the other hand, lives above the family home and works to maintain a strong connection to her father. Lily ends up marrying a man named Hector, who moves in with her. Ruby connects most strongly with her mother, a connection borne in part because she finds her father's patriarchal ways to be quite off-putting, insulting, and ultimately destructive to Bell's happiness. Ruby dreams of whisking away Bell to Florida, where they would venture out on the ultimate sunny vacation. What I appreciated about this novel is how unsentimental and how blunt it can be. Ruby's a very flawed protagonist and Ng doesn't stray away from revealing how repressed and depressed she can be. She is constantly sleeping around, despite not really enjoying herself, and is generally a kind of drifting figure. Not surprisingly, she's often working in temp agencies. There is little narrative arc to the novel, though, so I think one element that can be off-putting is that there's no sense of progression for the characters. As a social realist novel, Ng paints a quite compelling portrait of the quiet tragedies of the assimilation process. There's also some strange portions written in italics that SEEM to be part of some sort of autobiographical accounting, written by Ruby herself, about her parents' lives. In some sense the novel is about the recovery of their immigrant backgrounds, as much as it is about her maladjusted Asian American life. These italics sections appear most frequently early on in the novel and then one time late in the novel and I'm not sure why Ng didn't more consistently include these kinds of sections throughout.
Buy the Book Here (it is a tragedy that this is out of print already):
http://www.amazon.com/Eating-Chinese-Food-Naked-Novel/dp/0671011456/ref=sr_1_1?ie=UTF8&qid=1339345518&sr=8-1&keywords=eating+chinese+food+naked