Asian American Literature Fans - Megareview for November 5, 2014

With apologies as always for any typographical, grammatical, or factual errors. My intent in these reviews is to illuminate the wide ranging and expansive terrain of Asian American and Asian Anglophone literatures. Please e-mail ssohnucr@gmail.com with any concerns you may have.
Asian American Literature Fans – Megareview for November 5, 2014
In this post, reviews of Randall Mann's Straight Razor (Persea, 2013); Padma Desai's Breaking Out: An Indian Woman's American Journey (MIT Press, 2012); Leonard Chang's Dispatches from the Cold (Black Heron Press, 2009 paperback reprint); Le Huu Tri's Prisoner of the Word: A Memoir of the Vietnamese Reeducation Camps (Black Heron Press, 2010); Caroline Tung Richmond's The Only Thing To Fear (Scholastic, 2014); Kazu Kibuishi's Escape from Lucien (Scholastic, 2014); Sita Brahmachari's Jasmine Skies (Albert & Whitman, 2014); Rajan Khanna's Falling Sky (Pyr, 2014).
A Review of Randall Mann's Straight Razor (Persea, 2013).

I've been meaning to read Randall Mann's latest, Straight Razor, for quite awhile, but I haven't been treating my poetry shelf with as much attention as I should. Whenever I dive back into poetry, I am reminded of how much it offers me in terms of linguistic density, sonic innovation, and especially the texture of new vocabulary. Mann's Straight Razor easily falls in line with his earlier works, especially as he draws from a poetic genealogy inspired by the work of Thom Gunn, Mark Doty, the Language school, and the confessional lyric. I was a little bit disappointed by the pithy description included in the back of the book, describes this collection like so: "Randall Mann's third collection showcases the debaucheries and traumas of growing up amid San Francisco's gay scene. These self-possessed new poems combine the regal and raw, with Mann's renowned ear for poetic form matched by his unflinching eye for longing, alienation, and vice." While back cover descriptions never ever match up to the complexities offered by a given text (to be sure I love the alliterative phrase, "the regal and raw"), Mann's collection is as much about the coming-of-age of a young teenager in Florida as it is about an adult traversing the ever murky waters of San Francisco's gay scene. Indeed, the early arc is devoted to Mann's teenage and early adulthood years, much of which is spent in Florida, a place that becomes the ground floor for the lyric speaker's coming to terms with his queerness. I definitely agree with the sentiment that this collection is one that highlights Mann's ability to use poetic forms, especially the pantoum (for instance, the poignant "September Elegies"), the villanelle ("Hyperbole"), and the sestina (the absolutely haunting "End Words"); he also makes use of rhyming couplets and quatrain structures with alternating rhyming lines. The consistent use of forms is of course one way to master the kind of dynamism inherent to Mann's poetic content. The constraints of form enable a kind of lyric dissonance that produces a wonderful effect that is playful and often times melancholic and elegiac. For vocabulary lovers, the collection is sure to delight in its usage of esoteric words, including a heady bunch that appear in "Falling Asleep Over 'Falling Asleep Over the Aeneid'" such as "oneiromancy" (57), "lucubration" (57), "flocculate" (57), "concinnity" (57), and "glabrous." Finally, Mann's attentive approach to place is evident all over this collection, especially as evidenced by these lines in "American Apparel": "This glaring/ unfathomable/ San Francisco summer fog/ like eternity, like plain speech" (66). So we'll bask in the many wonders in Mann's latest luminous effort, a collection full of lyric pulchritude and "razor" sharp wit.
Buy the Book Here:
http://www.amazon.com/Straight-Razor-Poems-Randall-Mann/dp/0892554304/ref=sr_1_1?ie=UTF8&qid=1413180699&sr=8-1&keywords=straight+razor+mann
A Review of Padma Desai's Breaking Out: An Indian Woman's American Journey (MIT Press, 2012).
I was startled to see that MIT press had published a memoir, one that had Asian American themes written all over it and well, I had to review it. Little did I realize that I had a distant connection to the memoir writer, whose daughter (Anuradha) and my sister are actually acquaintances from their time serving in the US Marine Corps. Somewhere toward the conclusion of the memoir Padma Desai describes how Anuradha ended up joining an activist organization, one my sister had been involved in, and then I recalled her discussing some of her colleagues in that organization, one of whom was named Anu and then, I finally put two and two together. That surprise of course changed the remainder of my reading in the sense that the memoirist was made a little more familiar than I could have ever guessed. In any case, Padma's life is certainly extraordinary, one worthy of a memoir. By making this statement, I tend to have a kind of cynical eye when it comes to memoirs, only insofar as I wonder what makes one life worth writing about in this way. In Desai's case, she broke many boundaries as an Indian woman who travels to the United States, gets her PhD at Harvard at a time when most of her graduate colleagues where white men, receives a tenured professorship at Columbia and in the process uproots her husband, who agrees to follow her there, even though he would be giving up a tenured professorship at MIT. Padma grows up in a family that certainly provides her with a way to think independently, but even her liberal minded father would not have predicted her path that would take her to the highest reaches of economics and involve crossing national boundaries numerous times. The most painful sequence explored is Desai's first marriage made to a man who clearly had seduced her and did not have her best interests at heart. Because of conservative Indian marriage laws and her own hesitancies, it takes a number of years before Desai is able to end this marriage and follow her heart to Jagdish, a man two years her junior, with a perennially sunny disposition and a penchant for eating food off her plate. Though family members seem hesitant at this union for a number of reasons, it obviously is the right one, and Padma flourishes from this point forward. She manages to figure out why she can't get pregnant, beats the odds, raises an independent-minded daughter (not unlike herself), all the while maintaining a marriage in which both parties blossom in their careers. Desai certainly seems to have constructed her form of an American dream, but it's apparent that it is one only achieved through a tireless work ethic and desire to strive and with an intent to engage all the contours of what it means to be an Indian woman in America. As she writes, "I carried with me the constraining burden of a traditional Indian upbringing and the gruesome consequences of a disastrous marriage. I also came [to America] with a fierce academic ambition. I could dissolve the marriage but how could I cease being a brown-skinned Indian woman and be recognized as an American professional rather than an exotic creature from a distant land? Over time I learned to argue openly and decisively. I also learned to think audaciously and to talk colloquially. And I decided to dress differently" (234). Desai's statement here at the end of the memoir strikes as particularly illuminating, as it undergirds more largely her battle-hardened spirit, one that did not shrink from the struggles she would face. Perhaps, this resistance is the ethos of the immigrant spirit.
Buy the Book Here:
http://www.amazon.com/Breaking-Out-Indian-American-Journey/dp/0262019973/ref=sr_1_1?ie=UTF8&qid=1410998225&sr=8-1&keywords=padma+desai
A Review of Leonard Chang's Dispatches from the Cold (Black Heron Press, 2009 paperback reprint).
Originally published in 1998, Leonard Chang's Dispatches from the Cold was the only work left by Chang that I had not yet read. It's an interesting one to come to last and perhaps his most experimental in approach. The novel was Chang's second (after The Fruit 'N Food and before the Allen Choice detective trilogy: Over the Shoulder, Underkill, and Fade to Clear, and after that, Crossings and Triplines). Dispatches from the Cold is told primarily from the first person perspective from an unnamed narrator who is an out of work high school biology teacher turned diner dishwasher. He lives in a rundown area in a very cheap apartment that was once being rented out by a heroin addict named Mona Gorden. Mona Gorden is receiving a bunch of letters (snail mail) from her brother Farrel Gorden. Farrel doesn't seem to care that Mona isn't ever writing back; he seems to be most interested in the fact that he has a potential audience, someone to spout off his various ramblings about this daily trials, his existential ennui as a salesman and employee at a sporting goods store, as well as the ongoing problems with his underage 17 year-old live-in girlfriend named Shari. The unnamed narrator takes a kind of obsessive interest in these letters, so much so that the book that the reader is reading is actually something that is written by the unnamed narrator himself (or something along these lines). Indeed, the unnamed narrator has been driven to write about his experiences with these letters, as he gets increasingly involved in imagining what Farrel Gorden is going through. Even though the unnamed narrator only has the letters to go off of, he often goes further in imagining the events and things going on in Farrel's life. These take the form of third person perspectives and have a kind of omniscient quality that is strange given the fact that the unnamed narrator can never really know what Farrel might have been thinking or doing beyond what is communicated in the letters. Farrel Gorden (mostly called Gorden in the novel) begins to have an unhealthy infatuation with his new Korean American boss's wife (named Helen); over time, they are drawn together and begin to have an affair. Of course, we can tell that things are not going to end up well, especially since Helen is married, and Gorden has a girlfriend. When things can and do go wrong, there is an interesting discourse that Chang is developing in relation to the participation of the reader. In this case, should the unnamed narrator act when he knows something might be happening that the reader might actually be able to prevent. The meta-discourse of this novel is fascinating in that way, especially as reader and writer become pitted against each other (in the fictional world). To take it a step back, Chang's novel makes you wonder about the place of the reader in relation to any text and the relationship that the reader might make with characters. The resonance of this novel (at least for me) appears in the subtle manner by which Chang seems to suggest that representations can have material bearing on a reader's existence even when said representations are fictional. But, if I'm getting a little bit too intellectual about it, I will state that the unnamed narrator's own story is mysterious in such a way he comes off as his own aporia, something that the actual reader cannot get past. The conclusion of the novel wraps up a bit quickly and I found the logic of it confusing, but as a whole, Dispatches from the Cold is one of Chang's most compelling works because of its interesting narrative conceits and the question that the narrative brings up concerning the reader, the writer, and their twisted and often antagonistic relationships to each other. Oh, and the other thing: the novel is really interesting to read in light of the rise of e-mail: one wonders what this novel would have been like had it been written even ten years later in light of the rise of the internet. Would Farrel Gorden been sending Mona e-mails she never would have replied to? Maybe the letters would have been facebook updates instead! =)
Buy the Book Here:
http://www.amazon.com/Dispatches-Cold-Leonard-Chang/dp/0930773934/ref=sr_1_9?ie=UTF8&qid=1411885913&sr=8-9&keywords=leonard+chang
A Review of Le Huu Tri's Prisoner of the Word: A Memoir of the Vietnamese Reeducation Camps (Black Heron Press, 2010)
(highet res image I could find! sorry)
Le Huu Tri's Prisoner of the Word: A Memoir of the Vietnamese Reeducation Camps is an unsentimental and even devastating look at life in Vietnam following the end of the war and the hasty evacuation of Americans from the country in April of 1975. For those left behind like Le, the experience of being safe and making do becomes compounded by their association with American capitalists. Because Le had been employed by the South Vietnamese military, he naturally feared for his life. False rumors encourage him to turn himself in when the communists roll into town and from that point forward, he subsists in a variety of different labor camps, often spending whole days having to harvest different plants like cassava or hauling rocks from one place to another. The physical labor obviously takes its toll: Le is often sick, malnourished, and desperate for news from the outside world. What Le makes clear is that the labor camp and the communist cadres who run it are part of a larger system based upon manipulation and rumors. The prisoners are effectively locked in not simply because of fences or barbed wire, but because they are psychically trained to think that the prison is where they are supposed to be and that they will only be able to exit once they have shown their duty and obedience to the communist regime. The belief in this kind of prisoner meritocracy emerges often in the most violent of ways: prisoners are encouraged to rat out on each other to get out of working or even to get released, others are beaten, while still others die because they are out in the fields searching for unexploded mines. For his part, Le begins to uncover and to realize how the labor camp runs; this memoir is an extraordinary testament to the power of the mind to remember and to record the injustices that can be done. Indeed, there is a point at which Le understands the gravity of the illusions that surround him, so much so that—though he knows he cannot write was is occurring to him and his prison-bound friends—he can willfully remember the layouts of the camps he languished in as well as the cadre's continual manipulation of the prisoners. This memoir is hardly a riveting read: the days seem somewhat repetitive, but therein lies part of the point to be sure. Le isn't here to write an entertaining story, so much as he is creating a testimony of a dark period of time, one that calls attention to the many atrocities that arise under the guise of the Cold War and international conflict. Because of the monotony and stress of everyday prison life, the few moments of joy become acute: a package from family containing medicine and food, or a bountiful harvest of vegetables from a personal garden take on greater meaning and shine brightly. Certainly, an indispensable addition to the canon of Vietnamese American literatures and one that sheds light upon a little known, but vital narrative in the post-war period. This book should be of interest to fans of Vietnamese American literature, scholars in Asian American studies, historians in the area of the Vietnam War, and general readers of the memoir and creative nonfiction.
For More information about the book, go here
http://blackheronpress.com/prisoner-of-the-word-by-le-huu-tri/
A Review of Caroline Tung Richmond's The Only Thing To Fear (Scholastic, 2014).
Caroline Tung Richmond's debut novel The Only Thing to Fear is another inventive addition to the young adult/ paranormal/ romance genre. The novel is told from a third person perspective and primarily is focalized through Zara St. James, a mixed race (Japanese/ Caucasian) individual living in a world in which the Nazis and the Japanese defeated the Americans (and Allies) during World War 2. The United States has been broken up with the Western half being controlled by Japan and the Eastern half being controlled by the Germans/ Nazis. Zara St. James is the product of a forbidden union between a Japanese soldier and an American woman; she is scorned for her mixed background, but she is raised by a doting uncle when her mother is killed during an operation planned by a rebel group called the Alliance. The Alliance is a loose network of those living in Eastern half of United States who are attempting to overthrow the Germans. Zara is sixteen and deemed to be too young to participate in Alliance activities, though her Uncle Redmond is certainly active in the group. Things start to get worse in the town that Zara and Uncle Red live in, which include more active investigations by Nazis and threats of violence and brutality, which culminate in public executions. Zara obviously finds such treatment to be incredibly oppressive and does what she can to resist the Nazis. Richmond adds the romantic element into the equation when a young German military service member approaches Zara with the intent of helping out the alliance. Zara is naturally suspicious and ends up having to use her super secret powers to save them. Yes, not only does Richmond include a counterfactual historical foundation to her novel, but also incorporates Nazi eugenics issues. In this fictional world, German super soldiers are being engineered called Anomalies, some of whom have more than one super power. Occasionally, non-German Anomalies are born, who are usually killed as soon as their powers manifest, so Zara must hide her powers, lest she be discovered and stamped out. Richmond's premise is certainly interesting and adds so much historical texture that it rises above many others in the genre simply because it must use specific cultural and social contexts in order to come off as reasonably authentic. There is so much going on in this novel that the romance plot comes off as the least needed element, and the late stage resolution to it is not really that surprising. This novel also reminded me a little bit of Sesshu Foster's Atomik Aztex in its exploration of a counterfactual post-WW2 scenario. It is unclear at this time whether this novel is part of an intended series, so we'll have to wait and see. Definitely a recommended read for young adult fiction lovers.
Buy the Book Here:
http://www.amazon.com/Only-Thing-Fear-Caroline-Richmond/dp/0545629888/ref=sr_1_1?ie=UTF8&qid=1413053538&sr=8-1&keywords=the+only+thing+to+fear
A Review of Kazu Kibuishi's Escape from Lucien (Scholastic, 2014).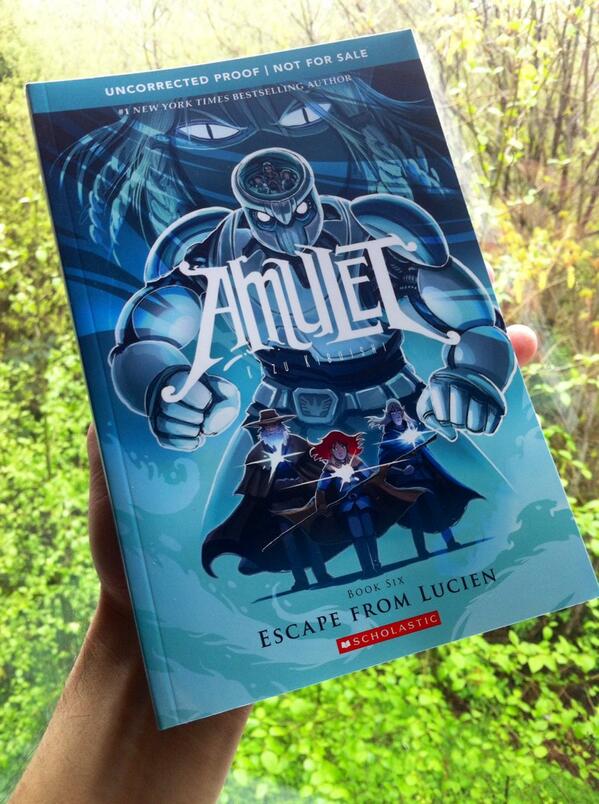 Fans of the Amulet series should be delighted that the sixth installment, Escape from Lucien, is here. The series has gone into new directions now with old foes becoming tentative allies and the main protagonist, Emily and Navin Hayes, exploring their own heroic paths. The plot is roughly noted as follows: "Navin and his classmates journey to Lucien, a city ravaged by war and plagued by mysterious creatures, where they search for a beacon essential to their fight against the Elf King. Meanwhile, Emily heads back into the Void with Max, one of the Elf King's loyal followers, where she learns his darkest secrets. The stakes, for both Emily and Navin, are higher than ever" (Official Scholastic Website; see link below). The "mysterious creatures" that Navin and his classmates battle are nothing other than shadows, beings with the ability to take control of any living thing such that they become something akin to zombies. Their only goal is to make more living beings turn into themselves. Navin teams up with inhabitants of Lucien in order to help more of the residents escape the underground city, which now has become overrun with the shadows. The mayor of the city leads the inhabitants out, while Navin and a select crew stay behind on what seems to be a suicide mission to keep the shadows from pursuit. In Emily's storyline, she comes to learn the background of the Stonekeeper's curse, especially as she travels with Vigo Light, Trellis, and Max Griffin to confront the "voice" that emanates from the stone. In their battle with the voice, Emily learns the background to Vigo and Max's curse and further discovers why Max has not been aging. This installment also pushes Trellis in an entirely new direction that will have great bearing for the future of this series. As always, the production values in Kibuishi's series is top notch, especially with a team of others to help complete the comics (allowing perhaps the series installments to be published at a quicker rate). The full color spectrum Kibuishi can use gives his work a wonderful high-fantasy realism that will continue to attract new readers. Perhaps, the one minor critique that can be made is that a series of this length, and which seems destined to continue for much longer, can be frustrating for the fan who returns to the story only to have bits and pieces of the previous five books remain forgotten. But, I suppose, this fault of memory gives encourages us to re-read, which is a kind of reading pleasure that we all wish we could make more time for in order to revisit the stories we love the most.
Buy the Book Here:
http://www.barnesandnoble.com/w/escape-from-lucien-kazu-kibuishi/1119479005?ean=9780545433150
http://www.scholastic.com/teachers/book/escape-lucien#cart/cleanup
A Review of Sita Brahmachari's Jasmine Skies (Albert & Whitman, 2014).

(US Cover)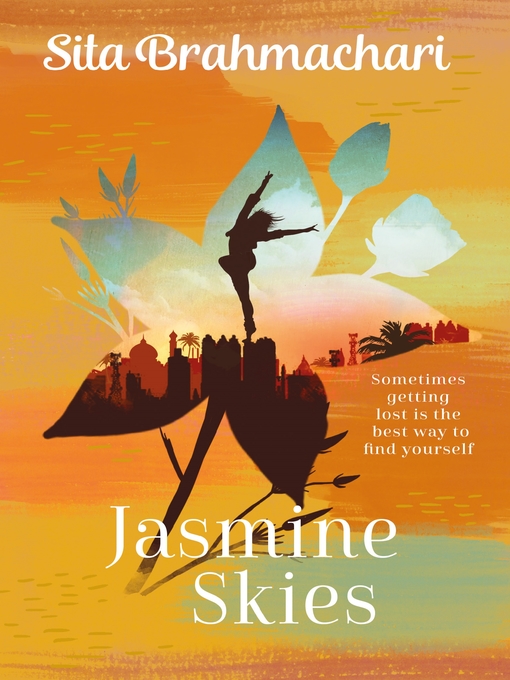 (I believe this may be the UK cover?)

Sita Brahmachari's sequel to Mira in the Present Tense is Jasmine Skies, which follows the same first person present tense narration employed in the original. Mira Levenson, at the encouragement of family members with the exception of a reluctant mother, is off to India, to visit relatives in Kolkata. Mira is soon buffeted by a very difficult cultural milieu, which includes the radical disparities in wealth Mira observes between the rich and the poor and stratification based upon caste standing. Mira's time in India is spent doing a number of things, including doing some sightseeing, either with Priya, her cousin, or her aunt, Anjali. Anjali is actually the cousin of Mira's mom (Anjali and Uma were actually born on the same day and in some sense are bonded in a kind of unofficial sisterhood), though their connection to each other has long been a subject of great mystery. Indeed, though it was apparent that Anjali and Mira's mother (named Uma) were once quite close, they undergo some sort of rupture which is undisclosed to Mira by the time she has left for India. Part of her goal in traveling to India is to find out what happened between them. Mira steals a set of letters written between Anjali and Uma that reveals the event that sparked the schism but only in elliptical ways, something alluded to as an event that happened when they were about the same age as Mira at the start of the novel. Part of the mystery might be unraveled, or so Mira believes, by visiting the home of her maternal grandfather, which had passed out of family ownership some time ago and sits in a relatively dilapidated state. Additionally, the romance that bloomed in book 1 between Mira and Jidé is tested by the distance between them. Mira soon finds herself attracted to a young man by the name of Janu; he grew up in a refuge that her aunt has helped run for a number of years. Janu's friendly nature and his handsome face easily distract Mira and the bonds of her relationship to Jidé are necessarily unstabilized. Eventually, Anjali discovers that Mira has been reading the set of letters that had between written between her and Mira's mother Uma. This revelation causes considerable tension between the two characters. Anjali must decide whether or not she will tell what Mira has done and obviously whether or not she will go on to detail what had occurred between her and Mira's mother as young teenagers. The novel's conclusion is a complicated one and brings up the question of individual desire and cultural tradition in the face of great wealth inequality and caste stratification. The novel can never address the fundamental question is brings up except on a microcosmic scale concerning how the upper-middle class subject can necessarily be a politically progressive individual on the one hand, while claiming the privilege of existing in a particularly elevated social position. Mira's family and by extension Anjali's are never endangered in terms of their class and caste statuses, and the construction of the refuge becomes one way that the family attempts to give back, but when the rupture between Anjali and Uma is finally revealed, you can see that Brahmachari is going after a larger social ill, one that remains a great issue all over the globe. Mira's naivete is obviously rendered in this text, and it is a necessary perspective that shows how little she understands concerning the incredible challenges of the lives that surround her, but Brahmachari gives her a minor and important redemption in terms of the ability of art to at least bring a measure of comfort to the lives of the destitute and the downtrodden. There are no easy answers and if anything, the novel's central focus on Mira is perhaps less important than the social contexts that the novel gestures to and requires the reader to reconsider in light of Mira's status as a transnational elite.
Buy the Book Here:
http://www.amazon.com/Mira-Present-Tense-Sita-Brahmachari/dp/080755149X/ref=sr_1_1?ie=UTF8&qid=1413392466&sr=8-1&keywords=mira+in+the+present+tense
A Review of Rajan Khanna's Falling Sky (Pyr, 2014).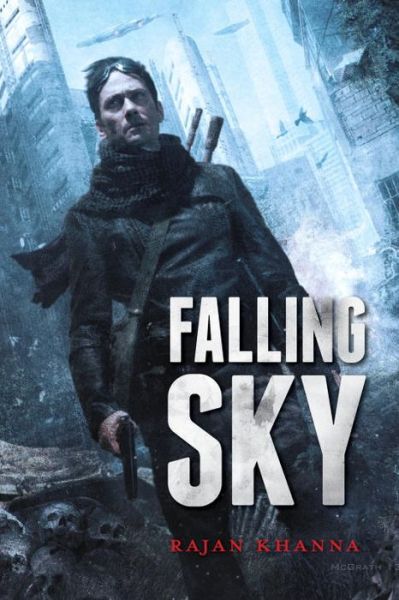 Rajan Khanna's debut novel is Falling Sky. For some reason, I originally thought the novel was a young adult fiction about aliens (you can guess that just based upon the title), but I wouldn't categorize it that way. It instead follows in line with the postapocalyptic zombie fiction and cultural productions that have been all the rage lately (think of The Walking Dead, Jonathan Maberry's Rot & Ruin, World War Z, Zombieland, etc). Interestingly enough, there haven't been many American writers of Asian descent that have taken on zombies as a specific plot conceit (two I can think of off hand are Linda Watanabe McFerrin's Dead Love and S.P. Somtow's Darker Angels, but then I draw a blank). Khanna takes his own world building approach by calling the zombie-like figures who populate his fictional world Ferals. There is a whole set of vocabulary to master in this alternate reality. The protagonist and narrator Ben lives in a time called the Sick, which is in contrast to the time before the Bug, which was call the Clean. The Bug is of course the infectious agent that turns humans into Ferals. A Feral merely has to transfer body fluids to you via an open orifice or wound and you will eventually Fade, which is the term for turning into a Feral. Ferals are creatures not unlike the ones you might have seen out of 28 Days Later, and the only way to survive is pretty much to kill them in a violent way. The killing of Ferals necessarily causes a lot of blood spatter, which is not ideal unless you are lucky enough to be wearing some sort of biohazard suit. Characters seem to primarily spend time salvaging one site or another, looking for food, fuel, or weapons and ammo. The novel opens with Ben leaving behind a science settlement called the Core, but then returning when he realizes that the inhabitants of the Core are under attack by the evil henchman who took over one of the remaining human cities called Gastown. Ben doesn't arrive in time to get everyone evacuated, manages to lose his ship (called The Cherub) in the process, and ends up stranded on Earth. He is rescued by a good Samaritan, and they eventually team up to go on a foraging mission, but that mission goes bad. The man goes missing, and Ben uses a radio signal to send out some distress signals which might be heard by the boffins, the term used for the scientific crew that Ben had been helping, some of whom were likely also stranded when the Core was overtaken. Fortunately, he is reunited with some of the boffins, including a woman named Miranda, who Ben obviously likes but does not want to admit to liking. Ben joins back up with Miranda, eventually is able to get them situated at another town, all the while allowing Miranda and her scientific comrades the chance to take a live Feral into that town for study. In the meantime, Ben decides he must do whatever he can to get The Cherub back and embarks on a desperate plan to go to Gastown to find out what happened to his airship. Ben must rely upon the help of a man named Diego, who reluctantly agrees to help him, even though Ben's plan to get Miranda and her science crew into a human settlement ended up causing Diego to fall out of favor with that settlement's leaders. Indeed, Diego had not known that Miranda and her science crew were harboring a live Feral and thus curried the anger of the settlement's leaders. Though Ben originally thinks it will only be Diego who will be going with him back to Gastown, Diego's half-sister Rosie and Miranda both end up going for their own reasons. From this point forward, Khanna amps up the plotting and action elements, as Ben continues with a dangerous plan to stow away in cargo holds and go down to a plant where helium is being produced and where The Cherub actually is being used. Miranda stays in Gastown attempting to research why scientists would be interested in experimenting on Ferals. Whereas Miranda wants a live Feral to find a cure, it becomes apparent that the scientists in Gastown have other, more dastardly agendas. I'll stop here with the general plot summary, but suffice it to say that there is a lot going on in this novel.
It's not clear whether or not Falling Sky is a stand-alone novel or will have future installments, but the world that Khanna has built obviously offers much more adventures and issues to sort out. As with many other zombie narratives, the end of the world scenario comes with it highly philosophical issues, especially as related to human ethics and moral order. At various points, there is the question that concerns whether or not the humans are really any better than the simple-minded, but vicious Ferals. It would seem that at many points the most dangerous enemies are other humans rather than the Ferals that populate the planet seeking human flesh. In this sense, Khanna's novel is not unlike many speculative fictions, which seem to be a way to explore a dystopian alternate reality that is really a refraction of our own dystopian reality in which our we are able to engender such catastrophic modes of social stratification. Khanna's novel includes non-stop action, so if you're looking something heavy on explosions, physical combat, zombie-killing, and not-so-fast getaways, then this novel is going to be for you. Interestingly enough, Khanna does insert a measure of ethnic/ religious identities into the text, as we come to discover that Ben is of Jewish descent. Though his background doesn't really come into play more than a handful of times, this detail is rather interesting given the fact that so often these sorts of protagonists often go entirely unmarked in such ways.
Buy the Book Here:
http://www.amazon.com/Falling-Sky-RAJAN-KHANNA/dp/1616149825/ref=sr_1_1?ie=UTF8&qid=1413437100&sr=8-1&keywords=rajan+khanna