Asian American Literature Fans – Megareview for June 28, 2015
AALF
uses "maximal ideological inclusiveness" to define Asian American literature. Thus, we review any writers working in the English language of Asian descent. We also review titles related to Asian American contexts without regard to authorial descent. We also consider titles in translation pending their relationship to America, broadly defined. Our point is precisely to cast the widest net possible.
With apologies as always for any typographical, grammatical, or factual errors. My intent in these reviews is to illuminate the wide-ranging and expansive terrain of Asian American and Asian Anglophone literatures. Please e-mail ssohnucr@gmail.com with any concerns you may have.
In this post, reviews of
Deepak Chopra's The 13th Disciple: A Spiritual Adventure (HarperOne, 2015); Omar Shahid Hamid's The Prisoner (Arcadia Publishing, 2015); Quanyu Huang's The Hybrid Tiger: Secrets of the Extraordinary Success of Asian-American Kids (Prometheus Books, 2014); Marisa de Los Santos's The Precious One (HarperCollins, 2015); Mala Kumar's The Paths of Marriage (Bedazzled Ink, 2014); Nick Sumida's Snackies (Youth In Decline, 2014); Jenny Han's P.S. I Still Love You (Simon & Schuster for Young Readers, 2015); Kazuo Ishiguro's The Buried Giant (Knopf, 2015).
A Review of Deepak Chopra's The 13th Disciple: A Spiritual Adventure (HarperOne, 2015).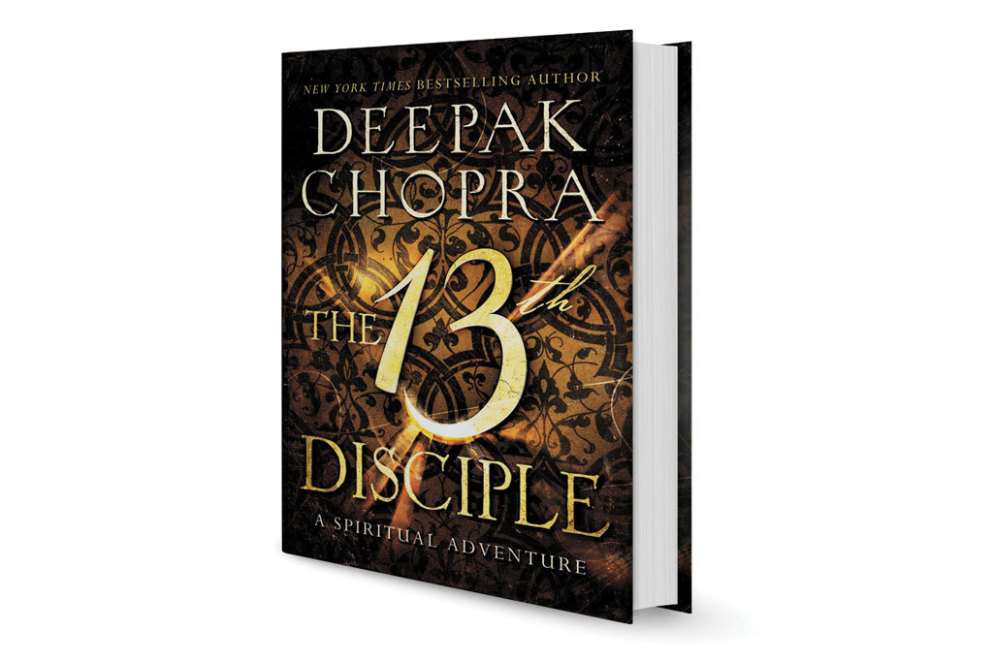 Deepak Chopra is well known for his work as a kind of spiritual guru, having penned many dozens of publications on various topics related to wellness, religion, and associated ways of life. Chopra is perhaps less recognized for his work in fiction; he is the author of some works in this area (including The Return of Merlin and the Enlightenment series, which takes on fictionalizations of major spiritual figures including Buddha and Muhammad). Chopra might be described as a secular spiritualist: that is, he seeks to bring religion in its broadest forms to the masses, whether through nonfictional "how to" guides or through fanciful and imaginative fictional worlds. In The 13th Disciple, Chopra deviates from using well-known religious figures to ground his fictional world and instead focuses on the apocryphal possibility of the titular thirteenth disciple, an unknown woman who comes to exist in some form within a religious relic. Chopra opens the novel with a central mystery: a nun named Meg has gone missing, and her niece, a young woman named Mare, realizes that there may be more to the story concerning her disappearance. From there, Chopra shifts the narrative perspective among an array of characters, including Meg, who we discover suffered from stigmata at a young age. Meg's time in the convent is a sort of therapy to manage the stigmata, though she becomes aware that she has been touched in some way by the light. The light, as Chopra generically deems it, is a kind of spiritual awakening involving the capacity for individuals of all stripes to do good, despite being in positions of disempowerment and general malaise. For Chopra, the path to the light is the grounding force behind this spiritual adventure, which is a kind of fictionalization of the ways that everyday individuals might be able to access their own abilities to change and become a positive force in the lives of others. The fictional story seems to be less compelling in many senses than Chopra's epilogue, which lays out his religio-secular philosophy. Indeed, the story's conceit is so reliant upon the central mystery and a cast of characters enigmatically brought together by the thirteenth discipline that many may be a little let down by the novel's conclusion, which leaves behind numerous red herrings and subplots unclosed. Chopra's choice to create a didactic spiritual tale in a fictional form is certainly an intriguing one and compels the cultural critics in all of us to consider the possibilities of religious formalisms in this contemporary moment.

Buy the Book Here:
http://www.harpercollins.com/9780062241306/the-13th-disciple
A Review of Omar Shahid Hamid's The Prisoner (Arcadia Publishing, 2015).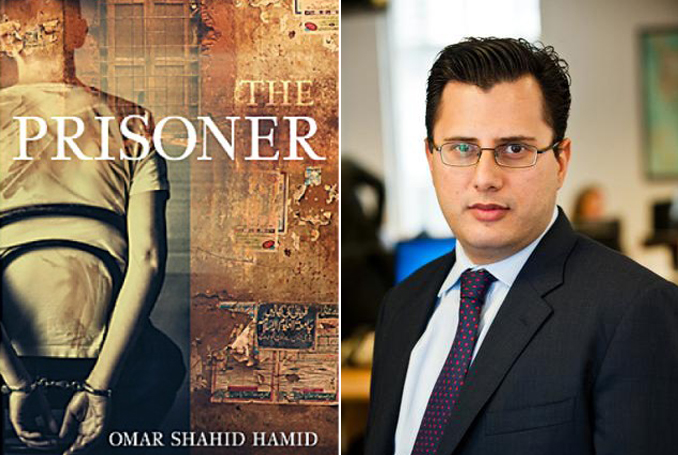 One of the interesting marketing details of Omar Shahid Hamid's The Prisoner is the book jacket biography, which details that the author "served with the Karachi police for twelve years, most recently as head of counterterrorism. During his service, he has been actively targeted by various terrorist groups and organizations. He was wounded in the line of duty, and his office was bombed by the Taliban in 2010. He has a master's in criminal justice policy from the London School of Economics and a master's in law from University College London." Hamid's experience in the Karachi police makes one wonder how much of the novel is fictionalized and how much is actually based in reality. The protagonist, Constantine, works as a superintendent of a prison located in Pakistan. The novel opens when he is visited by Major Rommel, who is looking to interview an important prisoner named Akbar. Akbar may have important information regarding an American of Jewish descent who has been kidnapped by some organization. It is unclear whether or not the American's kidnapping is the work of jihadi extremists or not, but it is apparent that Akbar knows more about the situation than he is letting on. The novel is told anachronically and readers discover why Akbar, who was once working for the police, is now in prison. Indeed, Constantine and Akbar were once allies, and the complicated relationships between politics, organize crime rings, intelligence agencies, and terrorist organizations causes those who work in the police force to be caught up in dangerous power plays. It is clear that corruption is, in some sense, required by all entities simply to keep one's head above water. For his part, Constantine begins to realize that the American's kidnapping is part of a larger plot in which his own position is imperiled. With little agency to direct his actions, Constantine can only negotiate between the various figures who are attempting to wrest control of the situation. At one harrowing point, Constantine must call on an old lover to protect his wife and children. Though Hamid's novel is uneven in its plotting—indeed, the anachronic storytelling technique sometimes undercuts the narrative pacing—his work does much to clarify the murky nature of governance in the post-9/11 period, especially in a place like Pakistan. The line between enemies and allies is never clear and in this sense, Hamid's novel is more like a noir than anything else. The Prisoner also can be paired up against a number of other novels set in Pakistan (or thereabouts) that focus on corruption in government and associated organizations, such as Mohammed Hanif's Our Lady of Alice Bhatti, Mohsin Hamid's How to Get Filthy Rich in Rising Asia, and Daniyal Mueenuddin's In Other Rooms, Other Wonders.
Buy the Book Here:
http://www.arcadepub.com/book/?GCOI=55970108764380
A Review of Quanyu Huang's The Hybrid Tiger: Secrets of the Extraordinary Success of Asian-American Kids (Prometheus Books, 2014).
Quanyu Huang's The Hybrid Tiger: Secrets of the Extraordinary Success of Asian-American Kids (uh oh, the hyphen reappears here) presents a more judicious approach to the issues related to the model minority stereotype than others, especially in contrast to Chua's infamous The Battle Hymn of the Tiger Mother, in its exploration of academic achievement. Underlying Huang's thesis is the fact that the secret of the success behind educational attainment for Asian Americans is a blend of cultural approaches to learning emphasized by both China and the United States. Central to Huang's thesis is the "hybrid" evoked in the title: to replicate the success of many Asian American parents, one must consider the benefits of each mode of education and seamlessly blend them. The balance between the two is essential to extract the most productivity out of the budding Asian American student and scholar. Huang's book isn't aimed at scholars of Asian American Studies or perhaps anyone with some baseline familiarity with the field, so there are limits to his arguments. Indeed, Huang never sets out to define who gets to be labeled as an American, and there is a strange elision between whiteness and American-ness that problematizes the place of the Asian in his argument. In some sense Huang's work reifies the ever foreign nature of the Asian American simply by creating a binary between China and America and their educational policies. One element that could have used more nuancing is that Huang's work is VERY specific to generational migrants. That is, he's looking at Chinese American migrants and their children, especially those migrants who retain a strong connection to their homeland. His argument starts to already fray if you consider Asian Americans who have lived in the U.S. for more than one generation, and considering the fact that immigration opened up in 1965, this possibility is beginning to be more of an issue than ever before. Further still, Huang often has to conflate Chinese Americans with Asian Americans. He attempts to make broader claims for his work by introducing short anecdotes about other Asian groups who follow similar cultural models for education as the Chinese, but these are short and do not hold the same kind of weight as his very specific study of the Chinese. His title might have been better suited to the concerns of the success of "Chinese-American" kids rather than for Asian Americans more broadly. Fortunately, Huang's main aim is to undermine much of the damage generated by Chua's book. He looks as the cultural factors behind achievement rather than at any racial essence and dismisses any biological elements that would somehow mark Asian Americans as superior students. This goal alone gives us pause to reconsider the roar of the tiger mother and her model minority ways.
Buy the Book Here:
http://www.prometheusbooks.com/index.php?main_page=product_info&products_id=2203&zenid=ff9onannvpqcm7i4f33rrt7fh3
A Review of Marisa de Los Santos's The Precious One (HarperCollins, 2015).
Fans of the romantic comedy genre, the courtship and marriage plot, Jane Austen, and the Victorian novel will be utterly pleased by Marisa de Los Santos's The Precious One, the latest effort from this prolific author (who has penned three novels for adults, a co-authored young adult fiction, and some poetry collections and who also boasts a PhD in literature no less). The novel is told in alternating first person perspectives. The first is given to Eustacia Cleary, otherwise known as Taisy, a 35 year old woman who was basically disowned by her father when she was just a teenager. She and her twin brother Marcus as well as their mother are all summarily cast out of his life once he decides that he loves someone else, a much younger woman named Caro. Together he and Caro have a newly born daughter named Willow, and there is apparently only room in his life for one family and one precious child, from whence the title comes. Flash forward about 15 years and Taisy's father Wilson has a heart episode. That particular health issue pushes him to ask Taisy to come back into his life (he also asks Marcus to visit), though they haven't been in contact for that entire time. Taisy agrees to the request, while Marcus, given his character and his own feelings about Wilson, declines. Taisy soon discovers that there is an important reason by her invitation: Wilson wants Taisy to help research and to write a biography of his life. Wilson, who is an incredibly intelligent academic and scholar, grants Taisy unprecedented access to his educational files as well as to the people he knows, but Taisy has other goals in mind. For instance, Taisy wants to know what Wilson was like prior to his ascent in academia, and her detective work uncovers some interesting facts, including the fact that he changed his name during high school and that his parents, who he had claimed were killed in a car accident, never died in that manner. Taisy has also returned to her childhood home in part because she herself has unfinished business with a man named Ben Ransom, a former love. The other narrative perspective is given to "the precious one," Wilson's daughter, Willow, who is smart just like her father, but lacking in social skills and knowledge of the world around her. The heart episode spurs Wilson to allow Willow to start going to regular high school, which as we all know, will never turn out well for someone who has been homeschooled forever. Willow finds herself adrift in a sea of hostile, cliquish teens, and finds solace in a too-friendly English teacher named Mr. Insley. Eventually, she also develops a tentative friendship with an attractive, star athlete named Luka. Life at home is similarly complicated: the arrival of Taisy and her stay in the guesthouse causes feelings of sibling rivalry to emerge. From what little Willow knows, Taisy is a loose woman, who Wilson had disparaged at every turn because she presumably had had a teen pregnancy (or something along those lines). But Willow's knowledge of Taisy is obviously colored by Wilson's aggressively hostile stance, so we know that de Los Santos has other plans for this sisterhood. Inasmuch as de los Santos is juggling two separate romance plots, she knows that the kinship plot is equally important and perhaps more important to the novel's final arc. In this sense, de Los Santos's eventual bringing together of the sisters is a satisfying triumph that becomes all the more poignant in light of the father who had worked so hard to keep them apart. Though the novel suffers from a generally ahistorical viewpoint (with probably the big exception of the references to smartphones and applications), it is an incredibly entertaining read that you will keep you up far past your bedtime.
Buy the Book Here:
http://www.harpercollins.com/9780061670893/the-precious-one
A Review of Mala Kumar's The Paths of Marriage (Bedazzled Ink, 2014)
Well, perhaps we're entering a new age. With Mala Kumar's The Paths of Marriage, we have certainly one of the most socially conscious works delving into a fictional world involving in part a major arc with a queer Asian American female character. On this level alone, Kumar's work enters a very select and limited set of archives. With the exception of the publications offered by Nina Revoyr, queer Asian American female characters have been largely absent from the fictional terrain. Queer identified Asian American writers have tended to publish poetry, a fact that is probably related to the issues of access to routes of publication. In Kumar's debut, The Paths of Marriage, we have essentially four different narrators. Three appear in the first person and track the intergenerational contexts of South Asian and South Asian American women. Lakshmi grows up poor, part of the Shudra caste of the Hindu faith. Though she aggressively pursues her educational options, eventually she butts up against the higher castes and higher classes, who seek to limit her trajectory. Lakshmi sees an arranged marriage as perhaps the only viable option once her educational opportunities come to an end, especially after her family is targeted because of her educational achievements. Lakshmi ends up marrying an individual who moves her to the United States. Lakshmi bears two daughters. The older is named Pooja. In the second part of the novel, Pooja gets a turn as our storyteller. Her section opens with her parents pressuring her into an arranged marriage. Growing up in West Virginia, Pooja experiences racial prejudice and finds the expectations of her parents to be oppressive. Pooja at first attempts to rebel, but eventually assents to the arranged marriage, as she couples up with a determined ambitious man named Anand. Anand and Pooja eventually settle in Florida; Pooja is determined to get an education, but this drive creates tension with Anand, who is pursuing a career of his own. Eventually, their marriage crumbles under these divergent expectations, but just before they are divorced, Pooja realizes that she is pregnant with a daughter. The third section opens with Deepa's perspective, who is struggling with the process of coming out to her mother. Deepa identifies as a lesbian, and when she begins a long-term relationship with a French national named Audrey, who is residing in the U.S. for her professional education, she realizes that she must come out to her mother in order to honor a promise she made to Audrey. Deepa eventually comes out to her mother, but only after breaking a vow she made to Audrey. In the ensuing period, Pooja breaks ties with Deepa, while Audrey feels betrayed by Deepa's delay in telling her mother. Thus, Deepa ends up losing both her mother and Audrey for a time. The narration eventually shifts again to a third person perspective. This choice was an interesting one made by Kumar, perhaps as a way to get at the process of recovery that is required of multiple characters, as they must each reconcile certain expectations that they have had of people they love. The final section sees Kumar provide an actual marriage plot type conclusion, so rare given the fact that same-sex marriage is only recognized in particular states (I originally wrote the draft of this review prior to the Supreme Court ruling, so forgive its out-of-datedness). Fortunately for Deepa and Audrey, as they reside in New York, they are able to get married. Kumar should be applauded for courageously taking on a subject matter of great interest not only to queer Asian Americans, but anyone invested in familial and social recognition of non-normative sexualities. Though the plot sometimes suffers from uneven pacing, the social impact of Kumar's novel cannot be understated. A truly trailblazing work that links women's oppressions in transnational and U.S. domestic contexts.
Buy the Book Here:
http://pathsofmarriage.com/purchase/
A Review of Nick Sumida's Snackies (Youth In Decline, 2014).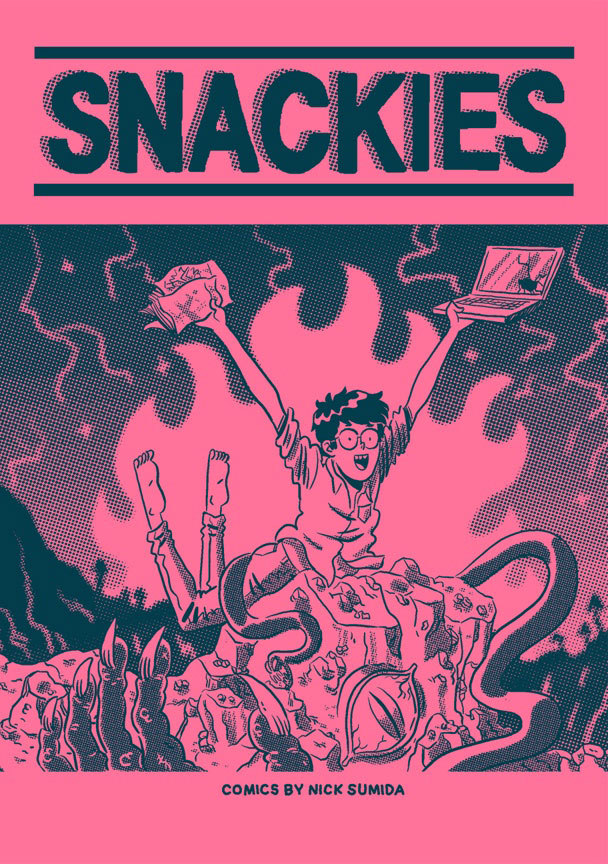 Nick Sumida's Snackies comes out of a cool indie press based out of San Francisco, California. The comics that comprise Snackies seem to be at least semi-autobiographical and follow the misadventures of the protagonist, especially as he seeks to find love, go on dates, and survive in the city. The comics are episodic, so the laughs come at uneven fits and bursts; readers of all stripes are certain to find something to chuckle at. For me, one of the best sections involved a parody of the craigslist missed connections. Here, Sumida pokes fun at the narcissism inherent in same sex desire, as the protagonist is unable to realize that the people he thinks he is connecting with (but only ever anonymously) are actually reflections in various surfaces, such as in shop windows and water surfaces. Another hilarious bit involves the protagonist traveling by bus and noticing an attractive man, only to realize that when the attractive man turns around, there is something that makes him repulsive (such as the fact that he might sport strange braids) or is in actuality an alien. Another excerpt involves the protagonist giving advice about how to lose weight and get him shape, but these self-help bits are obviously tinged with his cynical wit. Snackies shows a lot of promise, so we'll hope that Sumida ventures into full-fledged graphic novel territory. Certainly, this collection is groundbreaking for the simple fact that it focuses on queer contexts, though the question of race is an intriguing one, as it does seem as if the protagonist could be Asian American (though is never identified as such).
Buy the Book Here:
http://www.amazon.com/Snackies-Nick-Sumida/dp/B00ROG73SA/ref=sr_1_1?ie=UTF8&qid=1432617376&sr=8-1&keywords=nick+sumida
http://www.youthindecline.com/product/snackies-by-nick-sumida
A Review of Jenny Han's P.S. I Still Love You (Simon & Schuster for Young Readers, 2015).
In P.S. I Still Love You, Jenny Han's sequel to To All the Boys I've Loved Before reunites us with Lara Jean Song, the spirited, mixed race Korean American protagonist (and our first person narrator). For those that forgot (and I'm included in this list), the first book saw Lara Jean Song choose between her high school classmate and childhood crush Peter and her next door neighbor Josh, who also happened to be the ex-boyfriend of her older sister Margot. Lara Jean ends up choosing Peter, the Lacrosse jock and generally popular high school everybro, which brings us to the opening of the sequel, in which Lara Jean must somehow confess her feelings to Peter. Eventually, these feelings are revealed and thus ensues their fledgling romance. Of course, given the cesspool that is high school, you can be sure that someone will attempt to sabotage their bliss and in the process jumpstart our young adult fictional plot. In this case, a video of Lara Jean and Peter engaging in a make out session in an a hot tub serves to destabilize the security of their relationship. Especially problematic is Peter's ex Genevieve, who is also Lara Jean's former best friend from the seventh grade. Genevieve continually calls on Peter in times of trouble and because they are navigating the waters of post-breakup platonic friendship, Lara Jean can only watch while she feels sidelined by their continuing connection. While one romantic triangle blooms (or festers), Han of course wants to keep up with the conceit from the first novel—that is, the five letters that ended up going out to Lara Jean's various crushes—and thus creates another triangle through the eventual receipt of a letter from one of these previous five crushes, John Ambrose McLaren. While John and Lara Jean grow closer, it becomes apparent that Lara Jean has feelings for John, thus complicating the various romantic plots further. As always, Han is at her best in depicting plot-driven romantic entanglements, and you'll certainly be left wondering who Lara Jean should choose. I certainly had my opinions about the eventual result, and I'm sure some of the readers will agree with me that Lara Jean made the wrong choice. In any case, Han continues to develop the contours of the Song family in a more grounded exploration of race and ethnicity, as it functions in Lara Jean's life. The extra texture of this kind of background serves as an intriguing apparatus to consider the mixed race, Asian American protagonist in the young adult fictional world. Here, despite the more universal themes of high school angst and frustrated desires, Han gamely engages how Lara Jean finds some solace in her ethnic minority background, especially as it provides her with a stronger cultural attachment to her father and his family. But let's be clear: Han's work remains on the lighter side of the young adult spectrum. You won't find the cataclysmic, post-apocalyptic worlds so popular in the paranormal subgenre, but for those looking for high school hijinks and associated malcontents, you'll definitely find it in Han's latest. The conclusion seems to suggest that there might be a third installment in this series. Will it be titled P.P.S. I Still Love You Too? Only time will tell.
Buy the Book Here:
http://books.simonandschuster.com/P-S-I-Still-Love-You/Jenny-Han/9781442426733
A Review of Kazuo Ishiguro's The Buried Giant (Knopf, 2015).
(an appropriate looking Arthurian-like goblet thingee no?)

It's been about a decade since Kazuo Ishiguro published Never Let Me Go, a novel I found to be somewhat uneven, but nevertheless compelling on the level of ethics. Ishiguro dares to venture again into genre fictions to explore a rather philosophical inquiry concerning the adage that ignorance is bliss. While Never Let Me Go drew on the genre of science fiction, Ishiguro ventures into fantasy and Arthurian romance with The Buried Giant. Ishiguro moves out of the first person narration that has long been a hallmark of his work to employ (primarily) a third person perspective that follows a band of adventurers and questers. The primary protagonists are the older couple Beatrice and Axl, who live in some unnamed village in the age of King Arthur. They are Britons, who, for some reason or another, are haunted by a kind of fog of amnesia. They decide that they must visit their son in a neighboring village, but their journey is a long and arduous one. In one of their first encounters with other villagers, Beatrice and Axl come upon a scene in which a young boy has been kidnapped by a band of ogres. This boy, Edwin, is eventually saved by a brave warrior named Wistan, of Saxon background. Because Edwin suffers a wound (the origin of which becomes a source of debate), he becomes the subject of much consternation, and Wistan realizes that Edwin must be smuggled out of the village and raised somewhere else if he is to have any chance at a normal life. Wistan thus charges Beatrice and Axl with the task of helping him locate a new home for Edwin, even as they journey in search of their son's village. Other matters complicate these varying quests: Beatrice, for instance, seems to be harboring a kind of injury, and the chance of finding out more about her ailment leads the group to a monastery with a figure (Father Jonus) who may be able to diagnose the problem. As the novel moves forward, it becomes evident that Ishiguro is playing upon a larger issue concerning racial and ethnic relations: the Britons and Saxons were once at war with each other, but somehow the fog of amnesia has made it so that they do not understand what such tensions were about. As Beatrice, Axl, Wistan, and Edwin all come to grips with the potential possibility that they can end this fog and restore the memory of all villagers, a larger dilemma arises concerning whether or not such actions would be of benefit to all. Indeed, wouldn't the restoration of memory simply reconstruct the tensions that left so many dead due to endless campaigns for vengeance and retribution? Ishiguro's answer to the question is so ambivalent that the novel may not satisfy readers, who have journeyed with such unintentionally forgetful characters. A late stage introduction of Sir Gawain proves to be a fascinating gambit, one that pays off through a vital plot element. The mystical aspect of the novel seems at times simply a dressing for other more compelling issues. The dragon-villain, Querig, for instance, is a huge disappointment. Interestingly enough, where Ishiguro eventually leads us is to the kind of mystical conclusion undergirded by the conclusion and resolution of the romance plot. In this sense, even as the novel engages the larger scale issues of racial and ethnic tensions, the readers remain burdened most by the question of the afterlife, another layer of philosophical inquiry that remains finally and frustratingly unanswered. My favorite of Ishiguro's work still remains A Pale View of Hills. The uninitiated to Ishiguro must also read The Remains of the Day.



Buy the Book Here:


http://www.barnesandnoble.com/w/the-buried-giant-kazuo-ishiguro/1119702748?ean=9780307271037